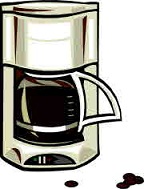 I have always loved the aroma and taste of coffee. I've always liked it just black..no creamer and no sweetener.
However, I could never drink it because it would always bring on a bladder infection. 🙁
This year, I've been drinking tons of water every day to aid with weight loss. And of course, I've had a healthy bladder as a result too. So, a few weeks ago, I tried drinking coffee again. Hmmm…so far so good, no infection. I always drink water along with my breakfast and coffee in the mornings, and more water throughout the day.
I've been drinking it black, just like above…no creamer and no sweetener.
Until Yesterday…
I went to the grocery store yesterday and needed to grab some coffee. I saw all the creamers and thought, hmm..I'll try a couple of the flavored creamers. I tossed both the Caramel Macchiato and the Pumpkin Pie Spice in the cart.
LOVE THE CARAMEL MACCHIATO! 🙂
HAVE NOT TRIED THE PUMPKIN PIE SPICE YET…I'm sure it will be awesome because I love pumpkin pie! lol
And of course the obvious bonus that goes along with drinking coffee…caffeine! It keeps me focused and more alert during the day.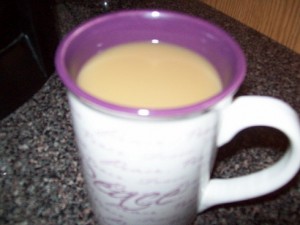 So now, Grandma loves her coffee!! 🙂
The following two tabs change content below.

Tammy Embrich -- Full time work from home, writer, blogger, YouTube content creator, and LOVES playing with makeup. She is the proud grandmother of 2 wonderful grand blessings. You can visit Tammy at
MakeUp Products Online
.