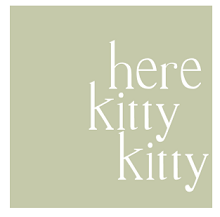 Being the animal lover that I am…and I love cats, I wanted to share this with you 🙂
I found this touching story in my inbox this morning!
I really didn't want a cat at the time after loosing my Pristine 2 years earlier but a friend of mine was going to look at some kittens that were advertised on Craigslist and I guess when she got there she called me. I could tell that she was frantic and she begged me to go take a look at the kittens. My husband and I drove 30 minutes to Ellenton where the kittens were located and took a look.
While all the other kittens were playing and having fun there was this small grey tabby who was very thin and off by herself.
The lady insisted that I didn't want her due to the fact that she was a loner, but the little girl stole my heart
I went over and wiggled my finger at her and she flopped on her back giving me her belly. That was it she was coming home with me and my husband agreed. After a few days and a vet check Starla's personality came out.
She was feisty, playful, and loved sitting on my shoulder while we were in the car
There was never a dull moment with her, especially now. Despite the 4 times we moved and me having my hours cut back Star has been there through it all rolling around chasing her tail, attacking me from under the blankets, curling up with me at night, chewing me out if I stayed out to late or I am not in bed when she is ready to go to bed, and flopping on her back for belly rubs.
I honestly do not know what I would do if Starla wasn't in my life. 🙂
She is my best friend and entertainer
I love you my little Star!
Alicia
Sarasota, FL
Copyright © The Animal Rescue Site.greatergood.com :: Grandma's Home Blogger Place :: All Rights Reserved
The following two tabs change content below.

Tammy Embrich -- Full time work from home, writer, blogger, YouTube content creator, and LOVES playing with makeup. She is the proud grandmother of 2 wonderful grand blessings. You can visit Tammy at
MakeUp Products Online
.