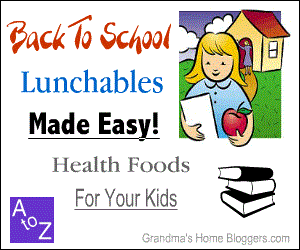 Make lunches super easy, fast and healthy for your little ones!…
The Ideal Resource For The Very Best and Affordable For Your School Aged Children and Grandchildren…
I love it and I know YOU will too! 🙂
Healthy Choices For YOUR Kids
Keep up a variety – Never boring, WITHOUT spending hours or big bucks. You get it all…fast AND easy – And, did I mention Healthy Choices?? 🙂
This Little Resource Will Answer All Your Concerns and More!
* How do you make sure it is healthy for your kids?
* Hot lunch or cold lunches?
* What type of lunch box/bag is best for packed lunches?
* How do you keep up a variety without spending hours or big bucks?
* What about teens?
* And Much More.
—->> Includes templates you and your kiddos and grand kiddos will LOVE!
Find Out More Today (about making lunch fun, affordable, varied and FAST too)! 🙂
The following two tabs change content below.

Tammy Embrich -- Full time work from home, writer, blogger, YouTube content creator, and LOVES playing with makeup. She is the proud grandmother of 2 wonderful grand blessings. You can visit Tammy at
MakeUp Products Online
.