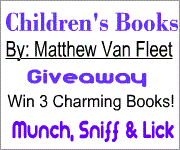 Fun and learning with children and grandchildren!
Review and Giveaway — Details, Rules and Prizes Below 🙂
First of all, I wanted to say; I genuinely loved the video, (BELOW)! It explains how unique Mathew is with his book creations. He creates his books with toddlers in mind when it comes to how strong they are so that kids can actually have fun with all the pull tabs! These books will not fall apart!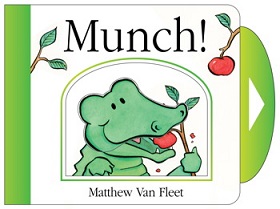 The books are durable enough so "your child" can read, play and learn all while not having to worry about the books crumbling. Crucial element with these charming collection of fun and educational books.
Your Children Are Going To Love These!

About The Author
Matthew Van Fleet has been writing and creating books for children for nearly 20 years. These books teach on numbers, shapes, colors, letters and much more! Mathew has sold more than 3 million copies of his books. He resides in New York with his family.
About The Book
This book lined the shelves of stores on August 27, 2013.
Munch is a book that was created for all young children…especially preschoolers. It charmingly explores the various mouths of animals and how they work, and also the sounds they make while eating. All the textures, tabs and movements make it so much fun for little ones! Matthew Van Fleet created this book to delightfully entertain and educate. Munch is perfect for teaching and interacting with those special children and grandchildren! The book WILL NOT disappoint. 🙂
I will personally be snatching a copy of all 3 books displayed above…Munch, Lick and Sniff for my two grandchilden!
Watch The Video!
Giveaway Details
Enter to win a prize pack (3 books) of Matthew Van Fleet's creations ~~ Munch, Sniff and Lick ~~ All attractively packaged in a boxed set!
Requirement For a Successful Entry — You MUST complete #1
1. Follow this blog via Networked Blogs (middle column), and also by clicking on the subscribe button, (top right button). Then come back and make a comment with an intro.
Extra Entries
2. Briefly describe why your children (or grands) would enjoy this book via a (new) comment.
3. Tweet this giveaway by copy and pasting (the below text) on your Twitter timeline and then come back and make a new comment leaving the Twitter URL of your tweet:
"Enter to #win a prize pack (3 books) of Matthew Van Fleet's Books – Munch, Sniff & Lick #childrensbooks https://bit.ly/14p1T9x"
4. Blog about this giveaway, and then come back and leave the URL of your blog post…via (new) comment
Important Note:
You can tweet and blog about this review and giveaway as many times as you like 😉
This Giveaway Contest Will Close On 10-18-13
Good Luck! 🙂

Copyright © :: Matthew Van Fleet :: Grandma's Home Blogger Place :: All Rights Reserved
The following two tabs change content below.

Tammy Embrich
-- Full time work from home, writer, blogger, YouTube content creator, and LOVES playing with makeup. She is the proud grandmother of 2 wonderful grand blessings. You can visit Tammy at
MakeUp Products Online
.