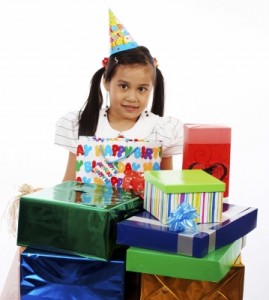 When it's time to buy a birthday gift for your beloved granddaughter, you want something special that reminds her of you each time she looks at it. But when that granddaughter's young, she probably has a wide range of interests—everything from Justin Bieber to science experiments. This means you have a huge range of potential gifts to choose from.
But it's also important to be practical. Most gifts given at the age of five or six aren't going to be around when she's an adult. Blending practicality with your desire to make her smile isn't always an easy trick to pull off. To that end, consider the following list of gift ideas to delight your favorite little girl on her big day.
Custom Photo Book
Not every grandmother has time to craft a handmade scrapbook, but these days it's easy to create a personalized photo book online with just a few clicks of your computer's mouse. She'll love being the star of her own hardbound book, and you can include lines from a story you two love reading together or some of your favorite sayings.
Jewelry
Most little girls love jewelry because it's a great way to express their personalities. Whether your granddaughter is artsy, loves music or spends her time preparing for the zombie apocalypse, you can find a trendy charm necklace or pendant for her without breaking the bank. You could even get her a Justin-themed bracelet or ring to satisfy her inner Belieber. We know you want to spoil her, but save those real pearls for her sweet sixteenth!
Journal
Do you remember having a diary with a little lock on the side when you were young? There's something so special about a private book to write in, even for girls still learning to write. Find a journal with a front cover that especially appeals to her, like one with kittens or soccer balls to give the item a personal touch.
Luggage
A girl's never too young for a set of luggage! Make her feel super special with a grown-up suitcase to take on sleepovers. You can often find suitcase/sleeping bag combinations in an array of styles at major discount stores. A rolling suitcase is most practical, especially if she gets to travel with you or her parents on occasion.
Sports Gear
If your granddaughter's a budding athlete, find out what kind of sports equipment she needs to play her best. For a soccer player, a new pair of cleats or a shiny new soccer ball fits the bill; the softball player will appreciate a new glove or even a batting tee to help her practice her swing. If you really want to thrill her, slip a pair of tickets for her favorite team into a pair of athletic socks.
Dolls and stuffed animals are still wildly popular with most girls, but so are video games, books and science kits. No doubt your granddaughter would be happy with a wide variety of gifts—Justin Bieber-themed or otherwise. You can hardly go wrong, Grandma. All you need to do is think about the things she likes to do when the two of you are together and you'll know exactly the right gift to give.
About the Author: Danielle is a writer from the Midwest and enjoys writing about fashion, travel, and jewelry such as necklaces, bracelets, and rings. She often gives women advice on the perfect fashion styles for any occasion.
img via FreeDigitalPhotos.net
The following two tabs change content below.