By Dennis Weaver From The Prepared Pantry.

The weather outside may be horribly hot, but that doesn't mean you have to be too. We've been working in the kitchen all week coming up with ways to beat the summer heat. Here are the top three frozen treats we were able to whip up. They are guaranteed to cool off your toasty afternoon, no matter what the temperature—and no A/C is required!
Pink Lemonade Pie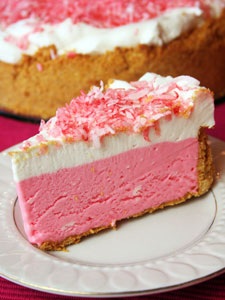 We've been making pink lemonade pies and their cousins for years now. After much trial and error, we've found using a springform pan instead of a pie pan works best, but you can use either. These pies are absolutely scrumptious. They are frozen, almost ice cream pies, and don't require baking (unless you choose to bake the crust for eight to ten minutes) so they are perfect for summer. Since everyone loves them, they're great for guests or a family occasion. They can be made ahead and frozen if you won't have time to make anything the day of a big event. The best thing about this recipe is you can use whatever juice concentrate you wish—cherry cranberry, peach mango, cranberry pear—and it'll come out just as tasty.
This pie is made in three parts: a graham cracker crust, a lemonade and cream cheese filling, and a whipped cream topping. If you prefer, you can use a commercial whipped topping or whipped cream from an aerosol can for the topping.
For the Crust
1 1/2 cups graham cracker crumbs
1/4 cup sugar
4 tablespoons butter
Mix the crumbs, sugar, and butter in a nine inch pie pan or spring form pan. Mix until the crumbs have absorbed the butter and the mixture is uniform.
Press the crumbs across the bottom of the pan and up the sides. We've found using a drinking glass to press the crumbs up the sides works well.
Bake for eight to ten minutes at 350 degrees. (If it's a hot July day, you can choose not to bake the crust. A baked crust holds together better because the heat melts the sugar to help hold the crumbs together.)
For the Filling
1 8-ounce packet of cream cheese, softened
1 14-ounce can sweetened condensed milk
3/4 cup pink lemonade concentrate (not mixed with water)
2 tablespoons lemon juice (fresh or bottled)
AmeriColor Red Red food coloring or equal
Using the whip attachment and your stand-type mixer or with a handheld electric mixer, mix the cream cheese until softened. Pour in the sweetened condensed milk very slowly while mixing to avoid clumps, scraping the bowl as you go.
Slowly add the lemonade concentrate and lemon juice and continue beating. Color with red food coloring as desired.
Pour the mixture into the pie shell or springform pan and place it in the freezer while you mix the topping.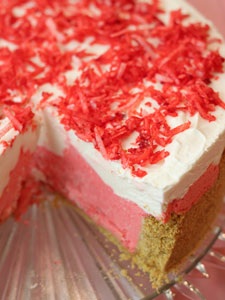 For the Topping
1/3 cup shredded coconut
red food coloring
1 cup whipping cream
3 tablespoons sugar
1 teaspoon vanilla extract
Place the coconut in a small plastic zip top bag. Add a drop of food coloring and seal the bag, trapping air inside. Shake until the coconut turns pink.
Whip the cream until stiff, adding the sugar and vanilla in the process.
Wait until the pie filling is slightly stiff on top, and gently spoon the cream over the pie filling. Garnish with the pink coconut.
Freeze the pie until firm. Slice the pie with a warm, wet knife for smooth cuts.
Fudge Dreamcicles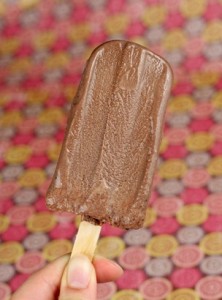 When it's blasted hot outside, there's no better way to cool off than with a creamy, chocolately fudgesicle. Save money and a trip to the store by making your own. With only four ingredients, this recipe couldn't be easier. With no baking or chopping required, this makes a great recipe for kids.
The secret's in the cocoa
The only way to have really good fudgesicle is to use really good cocoa. We use our Ramstadt-Breda Dark Cocoa. It's rich, smooth, and incredibly flavorful. This will make the difference between a good fudgesicle, and an exceptional one.
Ingredients
1 can 14-oz. sweetened condensed milk
1/2 cup milk
1/4 cup Ramstadt-Breda Dark Cocoa
1 tsp vanilla
Directions
1. Mix all ingredients together until smooth.
2. Pour into popsicle molds work the best, you could also use paper cups or even glass ramekins for more of a frozen custard feel.
Ice Cream Filled Cupcakes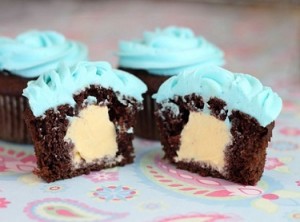 Imagine a cool cupcake filled with your favorite ice cream. They're easy to make. Just make regular cupcakes, core the centers, and fill them with ice cream. The frosting will hide the cuts.
Step 1: Make the cupcakes.
Step 2: Use a cupcake corer to hollow out the cupcakes.
Step 3: Fill them with ice cream.
Step 4: Frost them and freeze them
You'll have a cold cupcake filled with ice cream. We recommend buttercream frosting. It's light and when it freezes, it's almost like ice cream. Cool treat. The kids will love them; the adults will be impressed.
Dennis Weaver is the founder of The Prepared Pantry. He is the author of How to Bake, a 318 page book about the art and science of baking. You can download a free copy of How to Bake here. Kindle, Nook and iPad versions available.
Copyright © Dennis Weaver :: The Prepared Pantry :: Grandma's Home Blogger Place :: All Rights Reserved
The following two tabs change content below.

Tammy Embrich
-- Full time work from home, writer, blogger, YouTube content creator, and LOVES playing with makeup. She is the proud grandmother of 2 wonderful grand blessings. You can visit Tammy at
MakeUp Products Online
.