Introduction
There's a certain kind of magic that transpires at dinner time around the family table. This is especially true when there are children or grandchildren trying to grasp your attention about what happened at school that day.
Or perhaps your oldest daughter needs the car to go to a friend's house to work on a school project. Or, you need to discuss the recipes that are needed for an upcoming holiday event.
Let's face it, meal time is the ideal time for families to talk amongst each other to simply stay connected. Or at least, it should be.
In today's society, this is not the case with a lot of families. All too often, our children are scattered about going to soccer games, attending after-school events, dating, or just hanging out in their own rooms because they already had dinner.
What if I told you that there is a unique way to get the whole family together? Something fun and exciting for the whole family, including your grandkids!! Did I mention that this is holiday-friendly?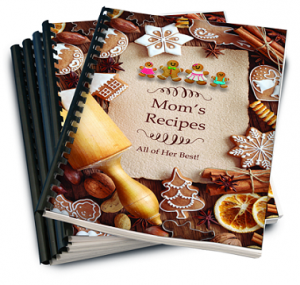 So, a website owner,
William Rice, contacted me about doing a review…Something I always enjoy doing for this Grandparents Blog. I enjoy discovering (new to me) websites, software, products, and innovative things that solve a problem, save time, or just something that can be thoroughly enjoyed and/or projects that can gather a family together.
My Review For FamilyCookbookProject.com

This Family Cookbook website is one that I've never known about nor experienced. So, I did my due diligence and did some Internet check-up. I was pleased with what I found. <3
My findings revealed (basically) an award-winning website where you can craft and produce your very own Family Cookbook filled with Mom's recipes, Grandma's Recipes, or any recipe collections that you have. The cookbook can be constructed for your own use, as a gift, fundraiser, or for sale.
History | Contact Information | Web Awards and Recognition
Between the school friendship of William Rice and programming expert Chip Lowell, The Great Family Cookbook Project website was created and developed in 2003. At present, more than 42,000 organizations and groups have designed family cookbooks utilizing the site's software platform. In addition, more than 1.2 million recipes have been recorded.
Website Awards
2016 – "Best Family Website" Via: Web Marketing Association's MobileWebAward Competition
2011, 2013 – "Best Publishing Website"
2013, 2014, 2015 – "Best Recipe Publishing App" Via: Web Marketing Association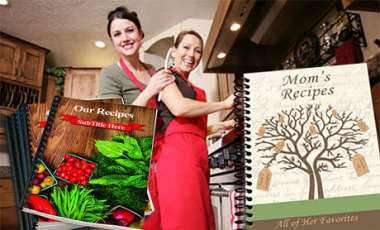 Contact:
William Rice
FamilyCookbookProject.com
————————–
The Great Family Cookbook Project
PO Box 475
S Wellfleet, MA 02663
Useful Website For Fundraiser Cookbooks: www.cookbookfundraiser.com
Top Features and Highlights
1 – The Family Cookbook Project helps clear unnecessary disarray by customizing all your treasured, handwritten or clipped recipes to one organized collection.
2 – The Family Cookbook secures your favorite and traditional recipes for the destiny of your children, grandchildren, great grandchildren and so on.
3 – After the cookbook software is configured and personalized the way you want, it becomes a concise, mobile-friendly recipe repertoire you can utilize for various ingredients when doing your grocery shopping.
4 – The Cookbook Project is an excellent family project that grandmothers and grandchildren can create and experience together. This is also an ideal way to build sentimental memories.
5 – This cookbook software is a favorable way to share recipes and ingredients with family and friends.
6 – This innovative program is brilliant for teaching your kids and grandkids to cook and learn an array of ingredients.
7 – The Family Cookbook is perfect for a gift idea for holidays such as, Mother's Day, Christmas, birthdays, and others.
8 – This program is highly user-friendly and, has been stated to be much easier and convenient than other recipe websites.
Pricing and Other Applicable Information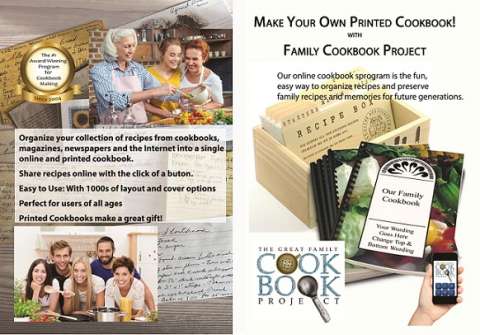 Format and Design Your Very Own Convenient, and (user-friendly)
Family Cookbook, online Now!
If and when your mother, grandmother, or great grandmother passes, don't let all those recipes just fade. You can preserve them ALL! You do not have to be a computer expert. A quick, guided video will be there for assistance.
In Addition, Convenient Calculator To Help You With Your Cost
Brief How To and Steps
5 Process Steps
1. Create an Account
2. Invite Others to Contribute – Optional
3. Enter Your Recipes
4. Design Your Cookbook
5. Order Copies Needed
Pricing
Taken From Website —
Site Type Software Versions:
1. Personal cookbook account FREE!
2. Premium Family Cookbook Membership with all the extras just $7.95 a month – or $29.95 a year – or $99.95 for life (for bigger savings).
Get More Pricing Info – And Answers To Your Questions….
Here
————————————————–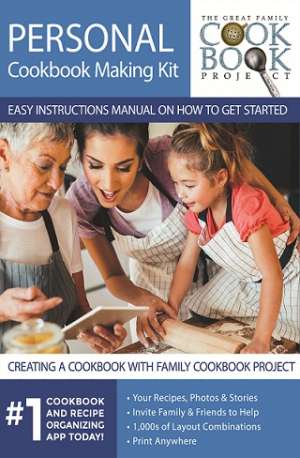 SEE — What Our Cookbook Editors Say About Family Cookbook Project!
Here!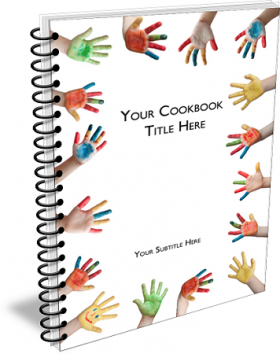 Facebook
YouTube
Thank you so much for reading!! <3

The following two tabs change content below.

Tammy Embrich -- Full time work from home, writer, blogger, YouTube content creator, and LOVES playing with makeup. She is the proud grandmother of 2 wonderful grand blessings. You can visit Tammy at
MakeUp Products Online
.