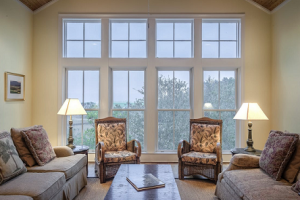 Window treatments are a way to make your house homey and to make it comfortable on the eyes.
Depending on the room and on your neighborhood, you may be using your window treatments to keep out the sunlight, filter the light, draw the eye to the outdoors or match your other decor.
Check out these top window treatment ideas for 2018 and create a modern masterpiece using beautiful materials in any room of your home.
Curtains to the Ceiling
Hanging curtain rods very high on your walls is a classic way of making your ceilings appear taller and your room appear more formal.
There is no need to hang rods one or two inches above your window trim. Instead, install them a few inches from your ceiling and choose very long or customized curtains that nearly skim the floor for a rich look.
Use Natural Materials
Natural materials are in for 2018 because of the continued focus on environmentally-friendly and sustainable practices as well as because wood and similar materials have an innate beauty that the human eye craves. If you feel that wood-slat blinds are too dark for your needs, you may want to consider bamboo shades, which filter light for a semi-private room.
Simplicity
Simple lines remain in for many spaces, including those seeking a modern, refined look. Simple, straight lines are seen as being preferable to heavy or excessive materials as well as flounces, ruffles and lace. Pair plain Roman shades, woven panels or straight curtains with plain metal hardware. Panel-track systems made of fabric or wood are also great for very modern spaces.
Energy Star-Rated Windows
No matter how fabulous your window treatment is, it cannot make up for ugly windows that are dated, wavy or rotting. New windows from a contractor like Unique Home Solutions or someone similar can spruce up the entire look of your home while also saving you incredibly on your monthly heating and cooling bills. When paired with energy saving blackout curtains, you can save exponentially and keep your home cozy and temperature-controlled.
If you are wanting to change your decor, window treatments are a great place to start because they are one of the key components of any room yet are cheaper to replace than many other furnishings are. They will set the tone for your room and will help you relax and enjoy your private space. Whether you crave simplicity or luxe hardware and accents, keep your window treatments true to who you are, and they will be sure to match with the rest of your home's decor.
* You Can See More Content For House and Home Here
The following two tabs change content below.

Tammy Embrich
-- Full time work from home, writer, blogger, YouTube content creator, and LOVES playing with makeup. She is the proud grandmother of 2 wonderful grand blessings. You can visit Tammy at
MakeUp Products Online
.