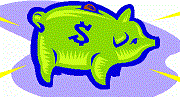 Coming up with a little extra cash to save for a rainy day is not easy, but if you work hard, it can be possible. Here are five tips that will help you add a little extra cash to your bank account. The third option lets you make extra income online.
Get a New Job or Request a Raise
It's never easy finding a new job, but if the job you're currently in has hit a dead end, it may be time to move on. It's always best to have room to grow and promote in your career, and sometimes when you hit that ceiling, you just have to call it quits and find a new job that has the future growth potential you need. But remember, don't quit your current job until you've been offered a new position somewhere else, as that could make your financial problems worse. Another option is to ask your supervisor for a raise. Highlight tasks you've been excelling at lately, and mention the times you have taken on additional responsibilities and tasks.
Sell Some Unused Belongings
Selling some things you rarely use actually has two benefits – you get the extra cash in your bank account, and you also get rid of unnecessary clutter taking up your valuable living space. If you notice you have some items that are hardly ever used, consider listing them on Craigslist or eBay. Things like old furniture, used electronics, collectibles, anything and everything that someone else might consider to be of value. If you're not sure if your belongings have any value, look them up online and see what the going rate is. You might be surprised how much someone might be willing to pay for what you consider to be junk.

Take on Freelance Work
There are a lot of freelance jobs that can be done in your free time. If you have computer skills, consider websites that offer freelance work for basic Excel work. Or become an Uber driver and make money in your spare time. Freelancing is a great way to have a flexible work schedule that allows you to work when you want and make extra income online.

Cut Back on Expenses
Making more money is not the only way to help out your monthly bottom line. Sometimes cutting back on your money wasted each month can be equivalent to getting a raise. Examine your expenses each month, and cut out what is unnecessary. Things like monthly premium movie channels you don't watch, or monthly subscription fees for things you don't use are great places to start. Consider doing more home repairs and car repairs on your own. Youtube is a great resource for how to fix anything and everything. Instead of taking your car in to a mechanic, go to the local U Pull & Pay and get your own car parts to do the work yourself.
Get a Part-Time Job
Sometimes the only way to make more money is to take on additional work. Consider applying for something part time that perhaps you can do evenings or maybe even weekends. Whether it's tutoring for SAT test prep, or coaching the high school basketball team, find something that has a flexible work schedule that doesn't require any attention during the times you're scheduled to work at your current job.
Hard work and diligence always pays off, so no matter which avenue you choose to follow to make some extra money, if you stick to it, it's sure to pay off in the long run.
The following two tabs change content below.

Tammy Embrich
-- Full time work from home, writer, blogger, YouTube content creator, and LOVES playing with makeup. She is the proud grandmother of 2 wonderful grand blessings. You can visit Tammy at
MakeUp Products Online
.