My very first tip (#1 Tip) is getting to spend time with my grandchildren. This Grandma gets to distress often; as the kids come over quite a lot. They live close by…which is awesome!!!! =)
LOVE Spending Time With My Grands!! <3 >3 (a heart for each one of them) Excellent stress reliever for ME!!
Stress can be down right deadly, if you don't know how to deal with it. If you're a negative thinker, then stress can be a nightmare for you.
Read the following tips with an open mind. We are all unique, and we are creatures of habit…(well, most of us) – The following stress relievers below may be just what you need if you're going through grieving, depression, bad marriage, or relatively anything that is currently stressing you !
Make a List Of Your Own If You Have To
Here is mine…
1) Spending time with my grandchildren…LOVE, LOVE them with all my heart and could NOT imagine living my life without them. <3 Oh wait, I've already said that! ~ Well, it's worth repeating!!
2) Don't dwell on things that stress you. This can be truly hard sometimes. I know; as I've been there. When you're not your best, make it YOUR mission to always try to do something out of the ordinary to efficiently distract you from your worries and stresses.
3) Workout – Exercise has helped immensely with my mood swings, depression, and stress. It gets my blood pumping; thus, making more oxygen flow to the brain and the rest of my body. Working out just makes me feel better in EVERY way. I think better, I get around better, and it also boosts my self confidence. I LOVE how I feel after a good sweat! =)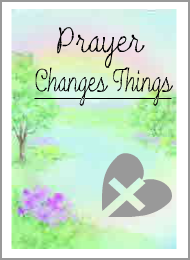 4) Pray – Prayer is ALWAYS an excellent option to everything that we do, and everything we are going through. God consistently answers prayer. However, we may not like the time frame, or we may not like the answer received. The Good Lord knows what our needs (and wants) are before we even ask. For me, praying DOES relieve stress, although I need to spend more time doing it. =)
5) Eat right – Eating right is being very kind to your body, mind, and spirit. When eating the proper nutrients, you will be more productive, your mood swings will most likely level out. In addition, vitamins and minerals found in healthy foods help to lift depression. Eating healthy is essentially good for you in many ways, including stress.

Side Note: I personally have found that eating bananas helps with my mood swings.
6) Live in an organized environment – If you're like me, organization is an ever-growing process. That's right, it never ends! lol 😉 Although, I try every day. It makes logical sense that having everything in its place at all times will undoubtedly relieve LOTS of stress!
7) Walk and breath in, then breath out….slowly. Rinse, repeat! Enough said 😉 lol
8) Spend time with your favorite hobby. If you don't have one, FIND ONE! I find jigsaw puzzles relax me. However, it seems that the only time I mess with them are on New Year' s Eve. lol I also enjoy coloring. Have you noticed all the new coloring books (for adults, meaning not cartoonish) that are displayed in stores now? Well, I bought 3 of them. These are hobbies of mine. I also thoroughly enjoy my iPad time every evening. That in its self, is a huge way to get rid of stress for myself.
9) Start a blog; there are free ones on the web. If you have emotions, anger, or no confidence inside of you, writing about them can help you tremendously!!!! Or you can also buy a good-sized journal and just spend time writing. Gets you thinking outside the box. 😉
10) Spend quality time with your spouse – If you are having marriage problems, and (who doesn't, I mean, all couples go through their sets of problems from time to time). If you've never had a disagreement with your spouse, or gotten angry; you are among the very small population that (say) that their marriage is perfect. What's my point? Start taking extra time to do things you haven't done in a long time. Maybe it's going to the show, amusement park, VACATION!!!? I like that last one; and who doesn't love vacation? <3 Whatever the case may be, do it!
11) Move furniture around, or redecorate to change your environment. I've always been like that; in fact, I move furniture around (at least) once every 6 months or so. Just like my (built in) desk. I'm always wishing I could place it on the opposite side of the room. lol
I love change! <3
12) If funds allow, go on a vacation. Or at the very least, go out with a friend or relative and have a good time. It doesn't have to be expensive to have a good time. If a vacation is NOT an option, go play cards with a couple, take a long Sunday drive, have friends over for dinner. Anything that gets you unfocused on your stresses.
Stress can do horrible things. Often times, it's silent killer that can bring on a stroke, heart attack, or anything else that can result in death. Stress CAN do a colossal of things. Stress affects people in different ways. YOU just have to find your way around your fight or flight process responses, then go with the flow. Don't let stress get to you!! Do something special for someone. This could be an elderly, your parents, brother, sister, or anyone that has certain needs.
Lifestyle Change
Sometimes, just changing your lifestyle can be a good stress reliever. If you're not happy about something, change it. If your job is stressing you out, change that too! In fact, there are tons of jobs that can be performed at home. In the amount of time I've been working from home, I've come to the realization that work at home writing jobs are the easiest to find. Also, you can turn your hobby into cash by starting a business. There are some home businesses that doesn't require a high start up fee; if at all.
One last thought…Go Shopping? However, don't over do it and end up with 6 maxed-out credit cards! — Well, that's a little over the top there! lol Shopping helps! 🙂
Read through my tips above objectively. Open your mind and let things happen naturally.
What ways do YOU relieve stress?


The following two tabs change content below.

Tammy Embrich
-- Full time work from home, writer, blogger, YouTube content creator, and LOVES playing with makeup. She is the proud grandmother of 2 wonderful grand blessings. You can visit Tammy at
MakeUp Products Online
.