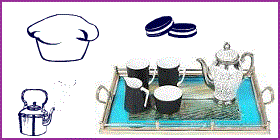 A nice read by: Ashley Hardway
Of course Grandma can have fun with this too!
I don't know what it is with kids but a traditional English tea is always a fun favorite. I guess it feel like play time more than snack time to them. My kids and I love having tea time together. It gives us a chance to bond and talk and sample new foods and flavors we might not have tried before.
Here are some fun and simple recipes for tea time:
Tea
First things first, the tea! I bought an inexpensive Chinese style tea set that is just the perfect size for little hands. Not only that but it opens up the conversation about different cultures and their traditions. The cups also do not have handles and are sturdier than the fragile English tea cups so that is a big plus.
We have tried many flavors of tea. The kid favorites seem to be fruit flavored. Peach tea, lemon tea, and raspberry tea are great. I like peppermint and chamomile because it helps them calm down and get ready for nap time! If you are careful to let the tea cool then there are no issues. We drink the tea plain or with a little honey for sweetness.
Cucumber Sandwiches
Tiny sandwiches are a lot of fun for kids to eat and for me to make. Although we sometimes substitute peanut butter and jelly or just jelly sandwiches, we do also enjoy an occasional cucumber sandwich. The recipe is easy. Just slice cucumbers very thin and then layer a few on your bread. On one side of the bread you can spread plain cream cheese or dice up some mint and mix it in for a tasty treat. Slice off the crust, cut into small triangles and serve!
Scones
The traditional English almost cookie is a little hard and crumbly but goes great with tea. They are not hard to make either.
In a large bowl combine:
2 cups flour
4 teaspoons baking powder
¾ teaspoon salt
1/3 cup of sugar
Cut in 4 tablespoons of butter and 2 tablespoons of shortening (I use Crisco). In a separate bowl combine ¾ cup of cream and one egg. Beat well and add to dry ingredients. Stir in a handful of dried fruit such as raisins or cranberries.
You can even use mini chocolate chips if you would like. Turn onto floured surface and roll until about half an inch thick. Cut into desired shapes and bake on a greased cookie sheet at 375 for 15 minutes. You can add extra flavor by including half a teaspoon of vanilla flavoring, lemon juice/zest, or orange juice/zest.
Having a tea with your kids is a lot of fun and does not have to be a lot of work. All you need is a creative spirit and a few minutes to whip up some tasty treats you can all enjoy.
About Author
Always curious, Ashley Hardway is constantly learning and passionate about sharing what she learns with others. Based in Houston, Texas, she loves to help families grow stronger, help their environments and communities, and keep moving forward! Check out NannyLady on Twitter to connect and find out more.
The following two tabs change content below.

Tammy Embrich
-- Full time work from home, writer, blogger, YouTube content creator, and LOVES playing with makeup. She is the proud grandmother of 2 wonderful grand blessings. You can visit Tammy at
MakeUp Products Online
.