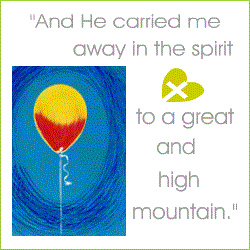 By: Chris Shantz
I was reading a bit this morning while sipping my hot chocolate with hazelnut creamer. It is a new book (for me). It's titled "Hand That Rocks The Cradle" — Inspirational Meditations For New Mothers.

While I'm NOT a new mother…I am a new grandmother!
A certain meditation in the book jumped out at me… When We Go To Heaven
It started out with a mom telling her toddler to hold on tight to the balloons her child was holding. Well sure enough, one of the balloons escaped from her child's hand.
This mother's child reaction was:
We Can Get It Again When We Go To Heaven!
The mother resisted telling her child that when the balloon got so high that it would burst.
My Thought: After we pass on, we go to heaven; and thus, comparing the balloon to the soul. The balloon was so vivid in my mind as it carried the soul up towards the heavens and safely left it there.
On the opposite page, I found these scriptures
John 14: 1-3
1 Let not your heart be troubled: ye believe in God, believe also in me.
2 In my Father's house are many mansions: if it were not so, I would have told you. I go to prepare a place for you.
3 And if I go and prepare a place for you, I will come again, and receive you unto myself; that where I am, there ye may be also.
Revelation 21:10-11
10 And He carried me away in the spirit to a great and high mountain, and shewed me that great city, the holy Jerusalem, descending out of heaven from God,
11 Having the glory of God: and her light was like unto a stone most precious, even like a jasper stone, clear as crystal;
I quickly realized the above scriptures were my grandfather's favorite. I've heard him read these many times as he preached. I also needed to read this today.;)
Whenever you are sincerely troubled or upset about something or a situation in your life is tugging at your heart strings, read the above scriptures for peace and contentment and lean upon The Lord.
You can find this book on Amazon

Copyright © :: Chris Shantz :: Grandma's Home Blogger Place :: All Rights Reserved
The following two tabs change content below.

Tammy Embrich
-- Full time work from home, writer, blogger, YouTube content creator, and LOVES playing with makeup. She is the proud grandmother of 2 wonderful grand blessings. You can visit Tammy at
MakeUp Products Online
.