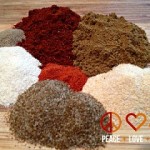 I love tacos!!! I thought this particular recipe looked yummy. 🙂
Since my daughter-in-law makes tacos at least twice per week, I thought maybe she might want to give this one a try. I think I will for sure, however, my hubby don't like tacos…I will give this one a whirl just to eat or try something different for a change. And hey, it's LOW CARB! 🙂
Of course I got permission from Kyndra Holley from Peace Love and Low Carb to post this recipe. I thought it would also be something my readers would benefit from.
This seasoning is a tad on the spicy side. If you do not care for spicy foods, simply reduce or omit the cayenne pepper. Use 4 tbs. of seasoning for each pound of meat used. To make taco meat, simply brown the ground beef, ground turkey or meat of choice and drain excess grease. Add 2/3 cup water and 4 Tbs. seasoning, reduce heat to low and let simmer 3-4 minutes until thickened.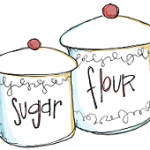 Ingredients
2 Tbs. Chili Powder
2 Tbs. Cumin
2 tsp. Onion Powder
2 tsp. Garlic Powder
2 tsp. Celery salt
½ tsp. Cayenne Pepper
½ tsp. Black Pepper
½ tsp. Garlic Salt
(2 Tbs. Peace and Love)
Directions
Combine all ingredients and store in an air tight spice jar when not in use. You can find the ones Kyndra uses – HERE!
Prep Time – 5 Minutes
Cook Time – 0 Minutes
Makes Servings: 1 Batch
Per Serving:
Calories – 133
Protein – 6 g
Carbs – 17 net g
Fat – 5 g
You can also find her cookbook Peace, Love and Low Carb – The Cookbook – 3 Ingredients to a Healthier You – Here
Enjoy!~~
Copyright © :: Kyndra Holley :: Grandma's Home Blogger Place :: All Rights Reserved
The following two tabs change content below.

Tammy Embrich -- Full time work from home, writer, blogger, YouTube content creator, and LOVES playing with makeup. She is the proud grandmother of 2 wonderful grand blessings. You can visit Tammy at
MakeUp Products Online
.