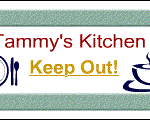 I love a nice, clean kitchen! Well, it's not always clean or (clutter-free), for the most part. 😉
I don't know about you, but I'm a gal (Grandma) who likes to see change and updates every once in awhile. That definitely includes the kitchen! 🙂 A kitchen needs to be clean, sanitary and of course, full of warmth, charm and hospitality. If you don't think your kitchen fits well in that category, do something about it! You've got your own imagination, use it! However, it does help if you are crafty by nature, and you have an eye for design.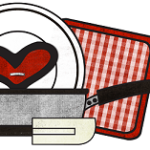 Let's say your kitchen hasn't been updated since the 90's or even the 80's. Yeah, you have your work cut out for you!
So let's get this "virtual, kitchen-spruce-up" party started!
Walls
Say, you just bought or moved into an old house and the kitchen hasn't been updated since the (early) 80's, it most certainly requires lots of fun and colorful updating. Most likely, your kitchen has been generously graced with that awful yellow and green wallpaper! You KNOW the kind I'm referring to. 😉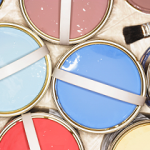 Time to get out the scrapers and get to work. I know, bummer! Although your hard work will be well worth it with a couple splashes of warm-colored paint. For me, I tend to like darker colors for (both) a dining room and kitchen!

Borders

Now borders are somewhat of a controversial nature; you either love them or hate them! For me, it all depends on the size of the room and colors involved. Sometimes a simple border makes a perfect statement and also encompasses the final touch. They also sometimes make a room look larger. You decide!

Cabinets

I remember some funky looking, white, metal cabinets WAY-BACK when I was a little girl. Thank goodness kitchen decor, appliances and styles have come a long way, seriously! Now you have various kinds of wood and colors to choose from. You can even get by with a couple coats of paint if you currently have some old, wooden cabinets. However, it will depend on just how old they are. Cabinets are a tad more expensive than paint and borders…choose wisely, depending on the look and style you are looking for. Most cabinets today, are good for fix ups.

You will find tips for cleaning kitchen cabinets Here

I would love to do this in my kitchen someday!

You could also remove a couple of the cabinet doors and just have shelves. Or, you could install glass in place of the doors. That in itself would spruce up a kitchen considerably.

Foliage, Flowers and Plants

If you haven't experimented with flowers or foliage before, you'd be pleasantly surprised at how much they can brighten up a room. Although for a kitchen, just some simple greenery will do the job nicely for on top of cabinets, (if there's room). Small, colorful plants will always brighten up any window sill.
Flooring
Most people (today), have some kind of ceramic tile or wood flooring in their kitchens. Carpet and linoleum was more in style for a kitchen back in the days. However, a lot of old houses of course, had the wooden floors. You can dress up wooden flooring by polishing and with some stylish throw rugs.
Going way back in time, people had dirt floors
Also, if you have a large dining room or kitchen with a bay window, a nice chair or bench with some throw pillows (to match the rugs) would nicely compliment the rooms.
There is always room for improvement when updating decor and furnishings in your home. Most of the time, just the smallest things can make the most difference. 🙂

Copyright © Grandma's Home Blogger Place :: All Rights Reserved
The following two tabs change content below.

Tammy Embrich
-- Full time work from home, writer, blogger, YouTube content creator, and LOVES playing with makeup. She is the proud grandmother of 2 wonderful grand blessings. You can visit Tammy at
MakeUp Products Online
.