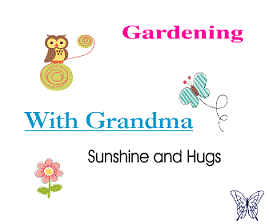 Since I was very young I remember my mom and grandmothers having gardens. They would grow flowers and vegetables. My mom would often ask us what kind of vegetable we wanted to plant and raise all on our own. She would help us of course but we would be responsible for planting, feeding, and watering. It was so exciting to watch those vegetables grow! My favorite was especially exciting since I always picked corn and it got so tall. It was taller than I was at that age. Many times my corn would fail but it was still so much fun to raise. Another favorite of mine is tomatoes and I have had my ups and down there over the years but I keep trying still.
There is just something about working in the garden with your children that brings you closer together. Just time spent doing something mutually gratifying tends to bring families closer. I know that in my family, even if we are just working to trim hedges, mow, weed, or whatever, if we do it as a family it makes it easier and more enjoyable. We all share in the appreciation of how our lawn or garden looks and enjoy showing off our harvest. Kids have always been amazed by a sprouting seed. Probably every one of us has planted a seed in a cup in Kindergarten or First grade.
Remember?
My mom babysat my children when they were small and they would take walks or hikes and discuss the names of trees, flowers, and plants in the area. My kids even learned the names of the different grasses and how they grew in our neck of the woods. I was often shocked by one or both of my children when they spotted a flower and told me what it was. My mother was always teaching them every thing she knew as they walked along. She loves the out of doors and gardening; she loves a well manicured yard. She expressed this to them as they would walk the neighborhood. Sometimes it would backfire on her when they were little.
You know how kids blurt things out, "Grandma, they sure need to mow their lawn!"
Both my daughter and my son have a love for
flowers and beautiful landscaping now that they are older. My son has taken a special interest in landscaping lately, he is twenty-one. He has been surprising me with his skills. This year he has planted a vegetable garden in the back yard, along with a cumquat tree (which he loved as a child), and brought in some mosquito repelling plants as well. He went to his aunt's house the other day and came home with a small Golden Rain tree that he saw in her yard, she had several of them so she let him pull it up. We did not think it was going to make because it looked dead as a doornail but yesterday he took me out and showed me that it had new growth. It was alive!
His vegetables are doing really well; he has tomatoes, green peppers, jalapeno peppers, strawberries, green onion, potatoes, and even some corn. He has one cherry tomato plant and it has been producing tomatoes regularly and they have a really great flavor. He is learning more and more about fertilization methods and really taking responsibility for his garden. His chickens like it too….yep, chickens. He brought home four chicks about eight weeks ago and now there are three very large hens and a rooster! The latter of which we have to bring in the house every night because he is cocka-ing but not yet doodling, it is quite funny actually but also quite loud!
Okay, back to gardening. Over this past summer it got really hot here in Texas and a nice large tree we had out front died and I was heart broken. After awhile my son cut it down and got rid of the stump and we had nothing. He has since planted a couple of banana trees which I did not think I was going to like but so far so good and he added some pretty spring flowers around the base and it really set it off. We have had two rose bushes in the front yard for quite some time that would give us an occasional bloom, one with an exquisite smell and beauty, and the other just a beautiful rose. Somehow my son, who has little interest in anything but his truck and computers, got these things to bloom like crazy!
He also went out and purchased some black mulch which I was puzzled about when I first saw him bring it home. But when he got through lining our Crape Myrtle bushes, roses, and Gardenia plants along with the perennials he planted our yard was gorgeous! We even have had requests on who did our landscaping! He has also been laying sod and getting rid of the Dollarweed, Crab Grass, and other unwanted weeds. He does get a bit overzealous when he fertilizes, we have a few burnt places in the yard, but overall he has done a spectacular job and I am quite proud.
As you can see when you give your grandchildren a love for gardening when they are small it carries over into their adult life. My daughter is a writer and does not have as much time as my son does because he is in college but she too loves plants and knows just about every one by name. She helped my son when he was building his raised garden beds and his two story chicken coop. I know chickens are not gardening but when you give a child a love for the outdoors and growing things from seed it pretty much automatically turns into a love for growing other things.
He can not wait for them to start laying and neither can I
Here are some grand parenting tips for you: If you do not have a large yard you can start your grandkids off by growing plants and vegetables indoors. You can read books about gardening to your grandkids. When they are small you can pretty much read anything to your grandchildren because they just love to hear your voice. Teach them the names of flowers, plants, and vegetables and how to care for them. Take them on nature walks and show them the different kinds of plants. If you do not know the names yourself you can buya book and you can look them up together. Even if you do not have a bent towards growing plants, flowers, and vegetables you never know how it may help your grandchild. They may excel in this area and it is a very healthy way to spend time, especially as a young person.
Little did I know that when my mother was teaching my children all about gardening that one of my children would grow up with a heart for making all things beautiful.
Author Bio
Nancy Parker is a regular contributor to www.enannysource.com, and she loves to write about wide range of subjects like health, Parenting, Child Care, Babysitting, nanny background check tips etc. You can reach her @ nancy.parker015 @ gmail.com
The following two tabs change content below.

Tammy Embrich
-- Full time work from home, writer, blogger, YouTube content creator, and LOVES playing with makeup. She is the proud grandmother of 2 wonderful grand blessings. You can visit Tammy at
MakeUp Products Online
.