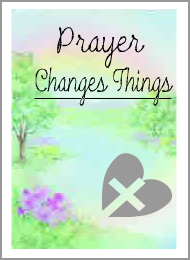 Good Tuesday morning to you! 🙂
Starting out with 12 Prayers for Tuesday – These are taken from my iPad (the daily prayers app) Absolutely love it! <3
Holy Spirit, thank You for living in me.
Dear Lord, help me to find happiness in forgetting myself and in trying to bring help and happiness to others.
Thank You, God, for all that You are and for the blessings that fill every moment of every day.
Dear Lord, thank You for all the positive influencers in my life today.
Dear Lord, I thank You for the gift of faith.
Lord, help my life to be well and whole, secure in the midst of danger.
Dear Lord, help me to understand that difficult times can make me stronger in the end, even though it may not always be easy to see.
Thank You, Lord for loving me so completely.
O Jesus, the Friend of the little children, bless and protect all the children of the world.
God in heaven, hear my prayer, keep me in Thy loving care. Be my guide in all I do, Bless all those who love me too.
Dear Lord, thank You for forgiving me of my sins and giving me eternal life.
Dear Lord, I pray today that You help me to control my thoughts. Help me to not think any evil towards anyone or anything.
Amen… 🙂
From The Bible
Night and day we pray most earnestly that we may see you again and supply what is lacking in your faith.
1 Thessalonians 3:10
As the Father hath loved me, so have I loved you: continue ye in my love.
If ye keep my commandments, ye shall abide in my love; even as I have kept my Father's commandments, and abide in his love.
These things have I spoken unto you, that my joy might remain in you, and that your joy might be full.
John 15:9-11
Watch and pray so that you will not fall into temptation. The spirit is willing, but the body is weak.
Mark 14:38
Prayer Quotes
(From http://www.searchquotes.com/)
He who interrupts the course of his spiritual exercises and prayer is like a man who allows a bird to escape from his hand; he can hardly catch it again. ~~ St John Of The Cross
Anyone who is to find Christ must first find the church. How could anyone know where Christ is and what faith is in him unless he knew where his believers are? ~~ Martin Luther
Have a great week!

The following two tabs change content below.

Tammy Embrich
-- Full time work from home, writer, blogger, YouTube content creator, and LOVES playing with makeup. She is the proud grandmother of 2 wonderful grand blessings. You can visit Tammy at
MakeUp Products Online
.