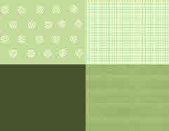 Knit, crochet and patchwork baby blankets make incredibly thoughtful baby shower gifts that both parents and children will treasure for years to come. They're incredibly customizable, since you can use any color you want and incorporate all types of fun fabric patterns. Next time you're looking for a gift for an expectant mother, try one of these super-cute baby blankets.
Knitted Chevron Blanket: This blanket offers both a throwback to the 1970's and a modern adaptation on the trendy chevron stripe. Because the yarn is doubled, the piece works up quickly. The pattern is easy enough that a beginning knitter can follow, since it requires nothing more than the knit stitch and slip stitch. You'll need seven skeins of cotton yarn and a size 11 circular knitting needle that's 24 or 32 inches long.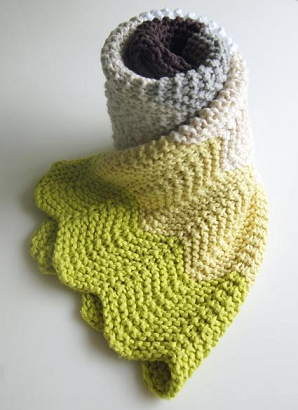 Self Binding Swaddle Blanket: Find two complimentary colors of soft flannel for this blanket, one piece measuring 43 inches squared and the other measuring 33 inches squared. While this blanket comes together easily it required a fold that can be tricky for beginners to wrap their heads around, so it makes a nice advanced beginner project. Sewn from the inside out, the project comes together and gets turned right side out before finishing. The soft flannel fabric won't scratch baby's skin and is machine washable.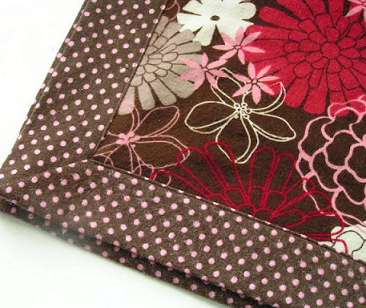 Knit Striped Blanket with Triangle Edges: The edges on this blanket set it apart and allow you to incorporate bright baby colors. To create the blanket base, knit two rows at a time, alternating colors every two rows. While the original calls for only two colors, you can use more! Cast on 100 stitches and knit until the blanket measures 27 inches by 32 inches. To create the triangle edging, use this tutorial.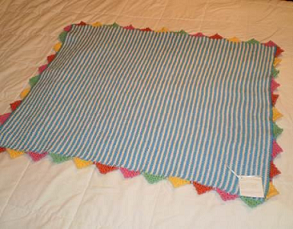 Easy Quilted Baby Blanket: When time is of the essence, look no further than this pattern. You'll need one yard each of fleece and cotton fabric in contrasting or coordinating colors. Trim your fabric to clean up the edges, then place the "right side" of each together, so you are looking at the back of the fabric. Pin into place, leaving a 7-inch opening. Sew up the entire blanket, except for your 7-inch edge. Turn the blanket right-side out and close the gap with a 7-inch piece of fusible webbing.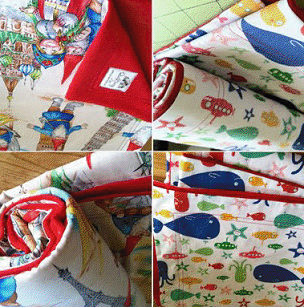 Follow the Lines Baby Quilt: For expert crafters looking for a fun baby blanket project, this Martha Stewart tutorial has what you need. The basic pattern is easy enough, but the hand quilting finish adds interest and skill to this piece. Start with one yard of printed cotton for the decorative front, 1/2 yard of cotton for binding and 1-1/4 yards of printed cotton for the back. Clean up the edges and selvages, then baste the front and back and stuff with cotton batting. Once the basics have come together, hand quilt along the pattern lines. You can get as detailed or abstract as you want here, so just start by outlining all of the large shapes across the quilt. Once that's done, complete the medium shapes and then work the small ones. When you decide you like the look and feel of the quilt, stop and sew on the binding.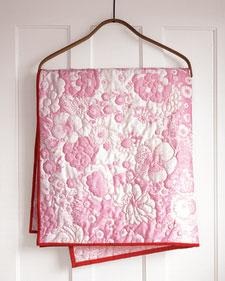 These are just some of the wonderful and diverse baby blanket ideas out there for crafters, all of which are perfect for baby showers and newborn gifts. There are so many fabulous and simple blanket ideas that it would be impossible to do all of them justice. If you've got a favorite time-tested baby blanket pattern, share it in the comments section.
About the Author:
Danielle blogs on behalf of Sears and other brands she uses. She's currently making a baby blanket to line her baby niece's new crib.
Read her work at eatbreatheblog.com.
The following two tabs change content below.

Tammy Embrich
-- Full time work from home, writer, blogger, YouTube content creator, and LOVES playing with makeup. She is the proud grandmother of 2 wonderful grand blessings. You can visit Tammy at
MakeUp Products Online
.