Thanks Tammy, for inviting me to post on your fun blog! My name is Nickalli, and I'm going to use this opportunity to come out of the crafting closet. Yes, I have a secret. A crafting secret.
For those of you who know me, I like to do a little bit of everything. I have to try it all; sometimes just to find out that I really don't like to do, or can't do, something. I can't arrange flowers to save my life, and I don't like to cross stitch anything larger than the size a silver dollar.
One thing I found that I love to do, that most of my friends don't know about, is silk ribbon embroidery. Ever heard of it? It isn't a main stream craft, it's a little Victorian, antique even. I took a class about 15 years ago and fell in love. You see it mostly as a small decoration on clothing, highlighted on a pillow, or the fancy stitches on a crazy quilt.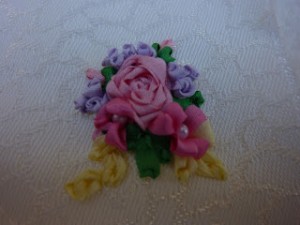 The stitches are the same as cross stitching (straight stitch, back stitch, lazy daisy, french knots, etc.) but instead of using embroidery floss, you are using ribbon. The widths of the ribbon go from very narrow 2mm, to really wide 13mm, the two most common sizes are 4mm and 7mm (about the width of my thumb). I love to add in different textures with charms, floss and beads as well.
I think my favorite part about silk ribbon embroidery is that once you learn a few basic stitches, it all comes together so fast and in no time at all you have a beautiful piece of artwork. Just by varying the color and widths of ribbon one stitch can take on the appearance of an entire field of flowers.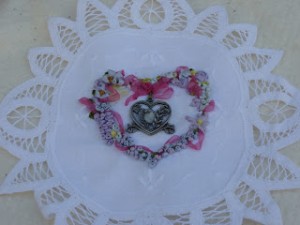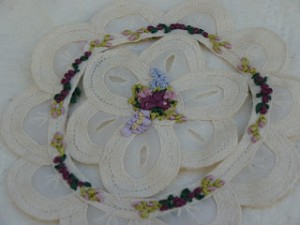 When I first began, it was hard to find anything outside of the class I took and books (this is one of my favorites). Now, with the internet – it's an amazing time to take up this beautiful craft. There are a ton of examples, youtube videos and instructions. Please go out there and have a look around!!
Please contact me Here if you'd like to take a class in person or have questions. In the meantime, I'll be sipping some tea in the parlor and perfecting my stitches while watching Sense & Sensibility.
The following two tabs change content below.

Tammy Embrich
-- Full time work from home, writer, blogger, YouTube content creator, and LOVES playing with makeup. She is the proud grandmother of 2 wonderful grand blessings. You can visit Tammy at
MakeUp Products Online
.