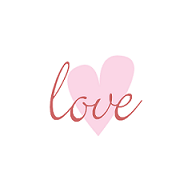 By Naomi Shaw
Valentine's Day is just around the corner! Need some unique ideas for decorating your humble home? Here are 10 crafty ideas for making your own recycled Valentine's Day wreath.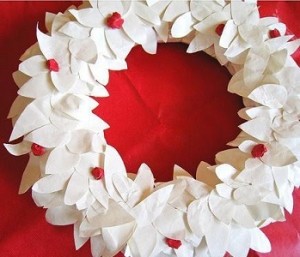 1. Cardboard + Book Pages
Instead of buying a styrofoam wreath form from a crowded craft store, use reclaimed cardboard as the base and an old book from storage.
Trace a wreath on the cardboard using a plate to get that perfect circle; then cut it out.
Color the recycled book paper with crayon shades of pink and red. Use about 10-15 pages.
Hole punch the pages until you have hundreds of tiny colorful confetti-like dots.
Spread your glue evenly across the wreath form and scatter the confetti onto the glue.
2. Paper Curls Wreath
This spirited wreath can add a fresh burst of color to any front door. It's so easy to make you can invite some friends over for a simple and fun wreath-making party.
Tightly wrap 6 inch strips of colored paper around a pencil to curl.
Glue the ends of each curl together to make a loop.
Hot-glue the paper loops to a foam wreath form until it's covered.
Brush a liquid adhesive over the curls then add glitter for a glamorous touch.
3. Rags to Riches
Get rid of your dry cleaner hangers this Valentine's Day. You can make fabric scraps from clothes you haven't worn in ages.
Bend the wire hanger into a circle (or circle-like shape). Pinch the part that hangs twist it downwards so you can hang the wreath.
Cut as many 1 inch by 6 inch strips of fabric as you need to cover the hanger.
Tie each piece onto the wire hanger and scrunch them together so you can't see the wire anymore.
4. Picture Frame Wreath
This unique wreath from Crafting a Green World, an eco-friendly craft blog, is sure to put a smile on any loved one's face.
.
Cut out four triangles from recycled paper and spell out the word "love;" one letter on each triangle.
Color each triangle pink and attach them to the twine using glue or tape.
Tape the twine across the empty frame so that your triangles hang.
5. Clothespin Wreath
You can clip pictures, notes, and Valentine's Day cards to this wreath.
Take your clothespins apart to paint pink and white. This clever mom from craft blog Clean & Scentsible used a unique paper to create patterns.
Bend a wire clothes hanger into a heart shape.
Add clothespins and hang.
6. Converted Christmas Wreath
Turn any Christmas wreath into a Valentine's Day wonder by adding red and pink embellishments.
Make flowers out of pink cupcake liners and attach with toothpicks.
Add some chocolate candy hearts that can be eaten later.
Remove any Christmas themed adornments.
7. Felt Rose Wreath
DIY enthusiast, Stacy Vaughn, wrote this detailed tutorial on how to make a gorgeous felt rose wreath. Below are the basics.
For the rose, cut a small piece of felt into a spiral; starting from the outside of the spiral start rolling the felt, then attach the last piece to the bottom.
Using craft glue instead of a glue gun to attach each rose can help you avoid those annoying hot-glue strings.
8. Heart-Shaped Rag Wreath
Similar to the rags to riches wreath mentioned above (#3), this wreath is in the shape of a heart. Just bend your wire hanger into a heart shape instead of a circle.
9. Paper Heart Wreath
You will need mini glue dots, a paper trimmer, ribbon, and a decorative patterned paper.
Cut the patterned paper into 2 inch by 11 inch strips and fold in half.
Use the glue dots on the edge of one of the strips; attach the other end to form a heart shape. Repeat until you have enough hearts for a wreath.
Attach hearts to form circle or oval shaped wreath.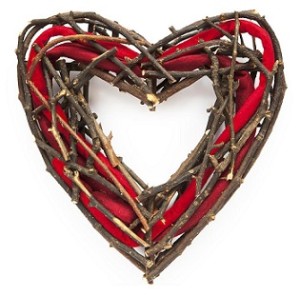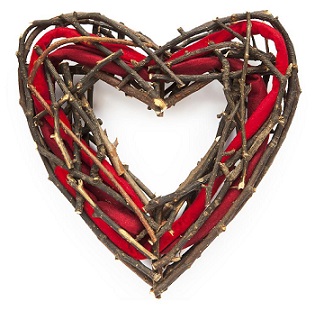 10. Sweater Wreath
You will need a few old sweaters, a pool noodle, glue gun, serrated knife, and packaging tape.
Cut your noodle in half, then tape the two ends together to make a V shape.
Cut the sleeves off your sweater, then cut them into even smaller pieces to make a striped pattern.
Pull the sweater pieces around the noodle and hot glue the pieces together.
Any of these wreaths would be great a for a crafting party or simply to hang beautifully on your front door.
Happy Valentine's Day! <3 🙂 Naomi Shaw is a stay-at-home mom in Southern California. After being a stay-at-home mom for seven years she works full-time as a freelance writer. Naomi frequently collaborates with AllStoreDisplays. She enjoys blogging about DIY crafts and mommy tips providing insight, advice and more! She hopes you enjoy this article.
The following two tabs change content below.

Tammy Embrich
-- Full time work from home, writer, blogger, YouTube content creator, and LOVES playing with makeup. She is the proud grandmother of 2 wonderful grand blessings. You can visit Tammy at
MakeUp Products Online
.