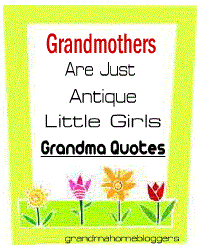 Just some Grandparenting Quotes to brighten your day 🙂
Make The Best Of Today!
Do you know why grandchildren are always so full of energy? They suck it out of their grandparents.
Robert L Rice, M.D.
What children need most are the essentials that grandparents provide in abundance. They give unconditional love, kindness, patience, humor, comfort, lessons in life. And, most importantly, cookies!
Rudolph Giuliani
When a child is born, so are grandmothers.
Judith Levy
A grandchild reaches for your hand and touches your heart.
Author Unknown
Just about the time a woman thinks her work is done, she becomes a grandmother.
Ralph Ellison
Nobody can do for little children what grandparents do. Grandparents sort of sprinkle stardust over the lives of little children.
Linda Henley
🙂
The following two tabs change content below.

Tammy Embrich
-- Full time work from home, writer, blogger, Avon representative, and LOVES playing with makeup. You can find her on Youtube as well. She is the proud grandmother of 2 wonderful grandchildren. You can visit Tammy at
MakeUp Products Online
. You can also subscribe and follow Tammy's Makeup and Beauty videos
Here
.