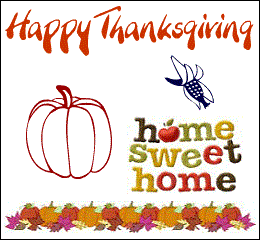 I wanted to wish everyone a Happy Thanksgiving! Hope you all have a great one with your families. 🙂
Take time to LOVE EACH OTHER!
A Thanksgiving Day Prayer
Lord, so often times, as any other day
When we sit down to our meal and pray
We hurry along and make fast the blessing
Thanks, amen. Now please pass the dressing
We're slaves to the olfactory overload
We must rush our prayer before the food gets cold
But Lord, I'd like to take a few minute more
To really give thanks to what I'm thankful for
For my family, my health, a nice soft bed
My friends, my freedom, a roof over my head
I'm thankful right now to be surrounded by those
Whose lives touch me more than they'll ever possibly know
Thankful Lord, that You've blessed me beyond measure
Thankful that in my heart lives life's greatest treasure
That You, dear Jesus, reside in that place
And I'm ever so grateful for Your unending grace
So please, heavenly Father, bless this food You've provided
And bless each and every person invited
Amen!
–Scott Wesemann
From: – http://christianity.about.com/od/thanksgivingverses/a/thanksgivingpra.htm
The following two tabs change content below.

Tammy Embrich
-- Full time work from home, writer, blogger, Avon representative, and LOVES playing with makeup. You can find her on Youtube as well. She is the proud grandmother of 2 wonderful grandchildren. You can visit Tammy at
MakeUp Products Online
. You can also subscribe and follow Tammy's Makeup and Beauty videos
Here
.