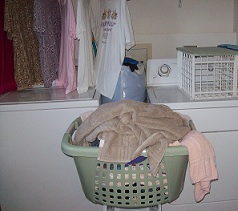 Is your laundry room notoriously the messiest room in your home? You aren't alone in this! Keeping the laundry room clean may be the most daunting task in cleaning your house, because it seems like there are always dirty clothes piling up, no matter how often you do your laundry. Thankfully, there are crafty people in the world that have shared with us how to clean up the laundry room while still making it look like part of your home, instead of like a storage closet.
On Ana White's homemaking blog, she shares a great idea for a laundry basket dresser. It's a pretty simple idea, but it's borderline genius. The laundry baskets act as drawers in a dresser. You can label them however you like for easy sorting. You can even stack them if floor space in your laundry room is at a premium. The blog comes with full-fledged directions for building this dresser, and they're very easy to follow. Using simple woodworking tools and wood you can get pre-cut from most stores that sell lumber, it was a fun and simple build that worked out very well for my laundry room!
It's understandable if you've never worked with woodworking tools, and the thought of doing so for the first time is a little daunting. There are still other great ways to keep your laundry room organized. Have you ever seen those great antique-looking (or maybe actually antique) wooden crates? They were formerly used as shipping containers.
Now, you can find them in many great antique malls, or even online. Consider stacking these on their sides against the wall. Secure them together some way, even if it's just by tacking them together with small nails. They can then be filled with smaller-than-ordinary laundry baskets, plus you can save a couple for storing your laundry detergents and fabric softeners.
Are you into sewing? Maybe you've seen these neat wall-hanging sewing organizers with pouches to help you separate your sewing tools. Think of one of these on a larger scale! Using sturdy fabric, you can sew on even larger pouches, creatively label or embroider the front of the pouches for easy sorting, and hang it up on the wall. Just make sure you really secure those pouches!
Get creative! There are lots of great, crafty ways you can clean up your laundry room and get those piles of clothes off the floor. Think of creative ways you store things around the rest of your house, and do it on a larger scale.
You can reclaim your laundry room in no time!
Danielle, who blogs on behalf of Sears and other prestigious brands, enjoyed finally putting her woodworking tools to good use with this project. Next, she plans to learn to build custom kitchen chairs! Read her work at http://www.eatbreatheblog.com/.
You can find more cleaning tips Here.
The following two tabs change content below.

Tammy Embrich
-- Full time work from home, writer, blogger, Avon representative, and LOVES playing with makeup. You can find her on Youtube as well. She is the proud grandmother of 2 wonderful grandchildren. You can visit Tammy at
MakeUp Products Online
. You can also subscribe and follow Tammy's Makeup and Beauty videos
Here
.