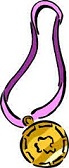 Grandparenting duties are a blessing to me. I know there is a little handsome and smart boy who needs my help with raising, disciplining, and YES, loving him!! It's an honor having the title of Grandparent. However, I've learned so very much from being one. I would love to share them with you all 🙂
However, first I want to say that all Grandmothers deserve a medal of honor! 😉 lol
Below are 6 things I've learned about being a Grandmother
1. Bite that tongue – I've been doing a lot of this! As I'm sure a large portion of Grandparents do this. It's only nature that most Grandparents would like to continue with what they knew per se, 25 to 30 years in the past.
You will find out rather quickly that you want to blurt out various things to your grandchildren and your kids while enjoying and disciplining your Grands. And I'm not talking about bad things; I'm talking about all those old fashioned rules and ideas that us Grandmas still hold dear to our hearts! Times sure have changed! 😉
2. Certain expectations fall by the wayside – You are in for many, many surprises being a Grandma. What you expect to happen doesn't AND what you don't expect DOES happen! lol And everything in between. Boy was I wrong with what I had in mind after my first grandbaby arrived. All children start to develop their little personalities in the womb. While some challenging behavior can be corrected once your grandchild is 1 1/2 years old to 2 years. However, remember that most of their personality is forming before they are born.
I also expected to be able to do my online work while watching my grandson full time. Didn't happen! I even had the cradle that my Dad made for my son in my office. Didn't happen! My little guy constantly wanted to be entertained. I ended up watching him for approximately 6 months and then Mom gave up her job and talked my son into letting her stay home full time. My Daughter-In-Law wanted to stay home with him from day one!
Just a warning, if you're reading this article, and you are in the same boat I was in, be prepared.
3. It's much easier to babysit your grandchildren at their homes – Wow this is for sure 100% true! Well, think about it; your grandkids have all their toys, bed, favorite foods etc at their home. To disrupt that, it may rock the boat somewhat when it comes to their behavior. They also sleep much better when at home. I have learned this many times over! Some kids just don't sleep good when away from home. However, some do. Every child is different.
4. Patience is still a definite virtue – My mother was the most patient person I've ever known. She always spent time with me when I needed her. Practicing patience is something that should be on all parent's wanna-be list. It should be your number one priority. Children didn't come with convenient and simple instructions. Life is not that simple. As new parents; you will need to spend time with your kids and bond with them. Spend quality time with them and teach the same things that were taught to you…only give your kids a lot more indepth teachings along with long-suffering patience. Your children will appreciate and remember this!
Well, you know that all that holds true for grandmothers. When your Grands are screaming "Mamma and Dadda!" You need to be patient with them; as with any other behavior.
5. Never forget that your grandchildren ARE NOT actually your children – That may be challenging for some grandparents to read or hear. Well, in a way they are. However, us Grandparents don't have the final say about various rules, discipline, religion, and so many other things. We need to sit back and let Mom and Dad do their own thing. Although whatever the situation; some grandparents create their own recipes for disaster and step in too far. I DON'T want to be that type of Grandma! My kids are quite intelligent adults, and our grandkids will be nothing short of smart, compassionate and responsible adults.
6. Being Grandma isn't always easy – Grandma, you're in for a wild ride with your new role! You will get your feelings hurt more times that you can count. This is especially true when they get to the age where they know that Mom and Dad is indeed their Mom and Dad. And they know it when they leave. Grandma, are you able to calm your little one and soothe the hurt? Sometimes you can and sometimes you can't. This is what I've learned myself. I sure wish I had a dollar everytime I've heard, (through real crocodile tears) "Where Mamma and Dadda at??" 🙁
When I first became a grandmother, I daydreamed about my little guy sleeping peacefully in his crib that we have in our home. Well, that sure didn't happen. Maybe a couple of times. However, most of the time, he ended up sleeping with both Amma and Pappa. Don't you just love the "Amma?" =) lol
Another thing that I was looking forward to was taking my grandson to various places…out to eat, or to the grocery store. Guess what!? That has yet to happen. Us Grandparents have NOT taken him anywhere by ourselves yet.
Through all the crying and sleepless nights, I'm proud to say that becoming Grandma is still the best experience I've had throughout my life. 🙂
You can see more articles about Grandparenting duties Here 🙂
The following two tabs change content below.

Tammy Embrich
-- Full time work from home, writer, blogger, Avon representative, and LOVES playing with makeup. She is the proud grandmother of 2 wonderful grandchildren. You can visit Tammy at
MakeUp Products Online
.