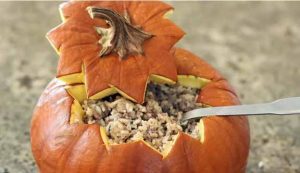 From DVO.com — Via Affiliate <3
Thanksgiving Leftovers and What to Do with Them
Hooray for Thanksgiving! The best day of the year to eat. And sometimes after Thanksgiving we still eat, and eat, and eat… By about day 4 or 5 of Thanksgiving leftovers, we are ready for something new. Here are some fun ideas to creatively use up those Thanksgiving leftovers.
Turkey – Turkey is probably the easiest leftover to use. Turkey meat can be used in soups, casseroles, pot pies, salads, and even tacos. Or you can try my delicious and super easy Barbeque Turkey Sandwiches (recipe at the end). 😉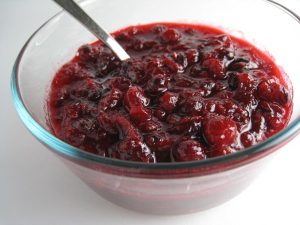 Cranberry Sauce – Cranberry sauce is one of my favorite Thanksgiving leftovers. I love to spread cranberry sauce on deli meat sandwiches; especially with a little cream cheese. You can also add cranberry sauce to yogurt, oatmeal, smoothies, or even as a topping for vanilla ice cream. A little cranberry sauce added to homemade whipped cream can make a fun, festive topping for hot cocoa, cider, pie, etc.
Mashed Potatoes – Shepherd's Pie, anyone? That is the first thing I get excited to make with leftover mashed potatoes. Mashed potatoes make a yummy topping on meatloaf as well as other casseroles. There are many bread, roll, doughnut, and other pastry recipes that use mashed potatoes. In my Internet searching, I came across several recipes for potato dumplings that looked intriguing and yummy.
Sweet Potatoes – Like mashed potatoes, sweet potatoes can be added to many bread and pastry recipes. You can make sweet potato pancakes by mixing an egg or two with some leftover, mashed sweet potatoes and then frying them on the gridle. Sweet potatoes can be added to thicken chilis or stews. Sweet potatoes can also be used in burritos, quesadillas, and other Mexican-inspired dishes.
Stuffing – Stuffing is, in my opinion, the most difficult leftover to work with. But believe it or not, there are some great recipes and ideas for using up stuffing too. Apparently, stuffing can be used to stuff more than just birds. You can make stuffing-stuffed peppers, mushrooms, and meatballs. Stuffing can be turned into breakfast foods like breakfast hash and stuffing baked eggs. Stuffing also can be delicious on top of some casseroles and dishes like chicken cordon bleu.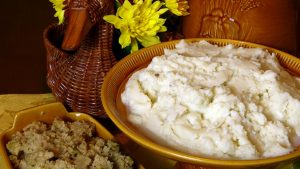 I am now looking forward to using my Thanksgiving leftovers this year! How about you? What else do you do with Thanksgiving leftovers?
Have a very happy Thanksgiving!
As Promised…
"Leftover" BBQ Turkey Sandwiches (Yields 4 Sandwiches)
Ingredients
1-2 lb of leftover turkey meat
12 oz of barbeque sauce
4 hoagie sandwich rolls
4 slices of provolone cheese
4 slices of turkey bacon, cooked
1 avocado, sliced
Small red onion, sliced
Directions
Mix turkey leftovers with barbeque sauce in a pan on the stove. Heat over medium heat until the turkey is warmed through. While turkey is heating, turn on the oven broiler to high. Place the hoagie sandwich rolls, open-faced, on a baking sheet. Put a slice of cheese on each roll. Put the rolls in the broiler for 2-3 minutes until toasted… (Make sure you check the rolls regularly to prevent them from burning). Put some of the barbequed turkey mixture on each roll. Top with a slice of turkey bacon, avocado and red onion slices. Eat and enjoy!
~*~*~*~*~*~*~*~*~*~*~*~*~*~*~
More Delicious Recipes
Turkey Salad with Strawberry-Pepper Vinaigrette
Serves: 4
Ingredients

6 cups torn romaine
2 cups torn curly endive, chicory, or escarole
2 1/2 cups (12 oz) cooked turkey or chicken, julienne
2 cups kiwifruit, peeled, sliced (or star fruit)
1 1/2 cups (3 oz) enoki mushrooms
1 cup red cherry tomatoes and/or yellow baby pear tomatoes, halved
Strawberry-Pepper Vinaigrette
1 cup strawberries, fresh or frozen (thawed), cut-up
2 tablespoons red wine vinegar
1/8 teaspoon cracked black pepper
Directions
Mix lettuce and greens together and divide among four plates. Top each pile with turkey strips, kiwi, mushrooms, and tomatoes. In a blender container or food processor bowl, combine ingredients for vinaigrette. Cover and blend or process until smooth. Drizzle vinaigrette over salad and pass around a fresh pepper grinder for a garnish.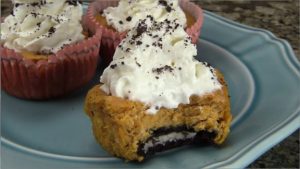 Pumpkin Cheesecake
Serving size: 12 == Calories per serving: 255
Ingredients
12 Oreo cookies
1 1/2 cups pumpkin puree
3 eggs
1/2 cup sugar
1/2 cup brown sugar
1 1/2 teaspoons cinnamon
1 pinch cloves
3 (8-ounce) packages cream cheese
1 tablespoon cornstarch
Directions
Put one Oreo into each cupcake slot in a lined cupcake pan. Mix remaining ingredients together with an electric mixer. Pour over crust. Bake 35-40 minutes at 350°. Cool completely at room temperature, then refrigerate overnight.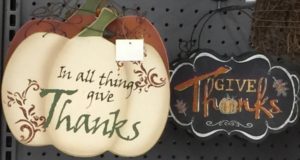 Dinner in a Pumpkin
Serving size: 5 == Calories per serving: 301
Ingredients
1 sugar pumpkin
1 small onion, diced
1 1/2 pounds ground beef
Salt & Pepper to taste
1/4 cup brown sugar
1/2 cup mushrooms
2 tablespoons soy sauce
1 (10 3/4-ounce) can cream of chicken soup
1/2 cup sour cream
1 1/2 cups white rice (uncooked)
Directions
Cut a hole in the top of the pumpkin and clean it out. Put rice and water in a microwave safe dish and cook on high until rice is tender (or use a rice cooker).
Brown ground beef in a large frying pan and add onions to saute.
When ground beef is no longer pink, add the rest of the ingredients and stir until completely mixed. Mix ground beef mixture and rice together and pour into pumpkin. Put the top back on the pumpkin and bake at 350° for 1 hour.
Be sure to scoop out part of pumpkin when serving.
Turkey Soup
Ingredients
1 turkey carcass
12 cubes chicken bouillon
5 large potatoes, cubed
1 onion, chopped
1 stalk celery, diced
6 cups carrots
2 15-ounce cans corn
2 14 1/2-ounce cans stewed tomatoes
2 cups elbow macaroni
Salt & pepper as needed
Directions
1. Fill a stock pot half to three quarters full of water and boil it.
2. Add bouillon cubes and the turkey carcass and let it boil for about 45 minutes to an hour.
3. While the carcass is boiling, chop up the rest of the vegetables.
4. Use a slotted spoon to remove the turkey bones from the boiling water.
5. Add all the vegetables and while they're cooking, remove the meat from the turkey carcass.
6. Chop the turkey meat into bite sized chunks and add to stock pot.
7. When vegetables are nearly ready, add the elbow macaroni.
8. Season well with salt and pepper (it takes a lot of salt!).
9. Enjoy!
Note: Add more water as needed until the consistency is the way you prefer it.
Turkey Marinade
Ingredients
1 cup soy sauce
1 cup vegetable oil
2 cups sprite
1 1/2 tablespoons garlic, crushed
1 1/2 tablespoons horseradish
Directions
Mix and add up to 5 pounds cubed turkey breast–marinate overnight and grill.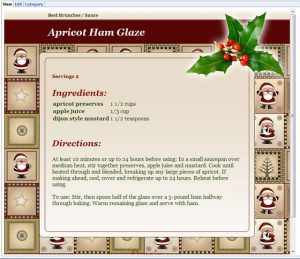 ~*~*~*~*~*~*~*~*~*~*~*~*~*~*~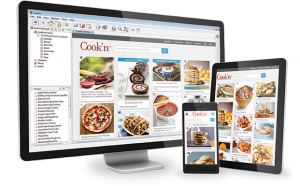 Organized Recipes!!
Piles of recipe cards in your drawer? ~~~ Download Cook'n today and get organized!
Get The Recipe Organizer Today
Also, download the Cook'n App! Here
One More Thing While You're Here…
Sign Up For The DVO Newsletter Here
Thank you for stopping by! I look forward to hearing from you with YOUR fav Thanksgiving
recipe 🙂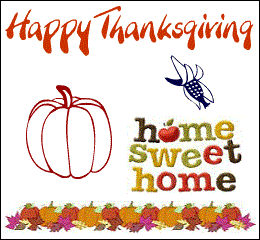 The following two tabs change content below.

Tammy Embrich
-- Full time work from home, writer, blogger, YouTube content creator, and LOVES playing with makeup. She is the proud grandmother of 2 wonderful grand blessings. You can visit Tammy at
MakeUp Products Online
.