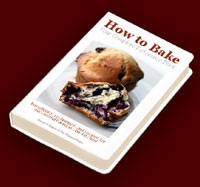 Dennis Weaver would like to share his baking book with you, How to Be a Better Baker
Absolutely Free!
It's illustrated, and it's 250 pages. =)
If you study the material in this book, you won't just be a better baker; you'll be an expert baker
"Straight From The Words Of Dennis Weaver"
And I'm a pretty good teacher. Some might even say that I'm an expert. I've taught baking classes. I've written extensively. I've designed hundreds of recipes. I've worked in a bake shop. I've started a baking company. And I'm the general manager at The Prepared Pantry.
To get your free, 250-page e-book, How to Bake, just tell us where to send it. No purchase required. No obligation. We only need an email address and first name. And we will protect your privacy.
Get Yours Today!
~*~*~*~*~*~*~*~*~*~*~*~*~
Sponsored Resources
The following two tabs change content below.

Tammy Embrich -- Full time work from home, writer, blogger, YouTube content creator, and LOVES playing with makeup. She is the proud grandmother of 2 wonderful grand blessings. You can visit Tammy at
MakeUp Products Online
.