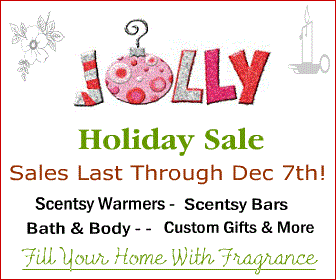 This Sale Is Going To Be Huge With Awesome Discounts For The Holidays!
Fill Your Home With Fragrance and Warmth This Holiday Season 🙂
Excellent gift ideas for grandparents, parents, children, friends or whoever happens to be on your holiday list this year! Give the gift of fragrance!

Darlene needs your help with getting tons of free stuff to make her home feel warm and fragrant for the holidays.
You Can Help By Easy Online Shopping!
Full Details
Here
Please Use Darlene Demell As The Party (OPEN PARTIES) At The Top Before Shopping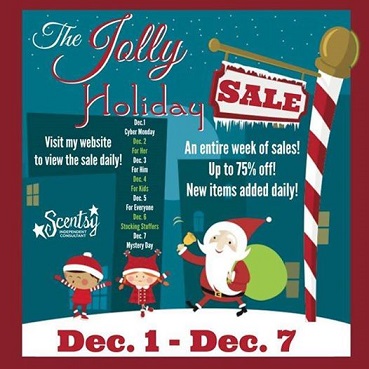 Darlene said ** 1 Random Shopper Will Be Super Happy They Shopped ** 🙂
Hurry though, this Jolly Holiday sale ends on December 7th!
Please Note: I have not been compensated for this post, nor do I have any affiliate links here…JFYI. 🙂
Just being nice and trying to help a business associate and friend.
Copyright © Scentsy Fragrance :: Grandma's Home Blogger Place :: All Rights Reserved
The following two tabs change content below.

Tammy Embrich
-- Full time work from home consultant, freelance writer, blogger, Avon representative, and likes doing Paid Surveys. You can find a list of 10 (free) survey sites
Here
. She is the proud grandmother of 2 wonderful grandchildren. You can visit Tammy at
Freelance Writing Jobs and Services
and
MakeUp Products Online
. You can also subscribe and follow Tammy's Makeup and Beauty videos
Here
.