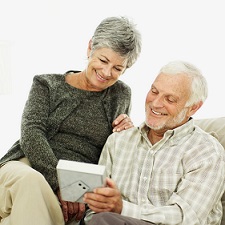 If you are a senior, an older grandmother or mother, father, grandparent…the thought of a retirement home has crossed your mind a time or two. I appreciate this entry by Danielle and some of the most asked questions and issues that arise when deciding on a retirement home. 🙂
Perhaps when you were younger, you never imagined relocating to a retirement home. However, now that the time has come, are you ready for senior community living? Chances are you probably haven't given it much thought until now. To help you pick a retirement home that best fits your needs, ask the following questions.
What is the city like?
When picking a retirement home, it's wise to look beyond the facility itself. What are the surroundings like? Do you have access to activities and opportunities you need to feel engaged? Consider cultural offerings in the place you settle down. Concerts, museums, art shows and other events are excellent ways to pass the time.
What amenities are offered?
Get as complete of a list as possible. Think about everything you'll want close by: barber/hair dresser, fitness rooms, pools, personal trainers, clubhouses, biking/walking paths, cultural centers, art classes and much more keep you entertained, happy and well cared for.
Will grandchildren and other family members feel welcome?
If you want your family to visit, make sure the retirement home provides amenities that make them feel welcome. A playground, for example, is great for grandkids. Check with potential retirement homes about their visitor policies to make sure they coincide with your expectations.
Does the retirement home have you covered for years to come?
You can't plan for today and ignore tomorrow. Instead, choose a retirement home that lets you age in place by providing more advanced assistance. Even if you don't need it yet, the time may come when you appreciate free transportation, onsite medical services and a central dining room where you take your meals.
What recreational programs are offered?
From tennis, golf and Pilates classes to knitting, bridge and Mahjong games, find a retirement community that offers recreational programs that interest you.
What security measures keep residents safe?
Your old home may have featured the latest anti-burglar measures; how does the retirement community compare? Find out what security measures are taken to protect residents night and day.
Is the facility clean and well staffed?
The only way to know for sure is to visit the retirement homes you're considering. Scrutinize the grounds, lobby and living areas. Talk to staff members to see if they appear competent, caring and respectful of residents.
Are the residents happy?
During your visit, talk to current residents. Ask what they like about the facility and what could be better. These honest inside opinions can be very enlightening, for better or worse.
What do the finances entail?
Retirement is all about living on a fixed income. You must know the bottom line before you relocate to one community or another. Ask upfront about specific costs and make sure you can afford the retirement home you settle on.
What types of assistance programs are offered?
If you're a member of a minority group, such as the Chickasaw people, you can apply for an Assisted Living Benefit Program that provides up to $2,500 a month for Chickasaw elders to live in a state licensed assisted-living facility. If you have Chickasaw heritage, are 60 years or older and have financial need, you may qualify.
By doing your research ahead of time, you'll find the perfect retirement home for your needs.
About the Author:
Danielle blogs on behalf of Sears and other brands she uses. She recently helped her grandmother find the perfect retirement home complete with a swimming pool and a very liberal pet policy. She visits her every Sunday afternoon to attend arts and crafts together.
The following two tabs change content below.

Tammy Embrich
-- Full time work from home, writer, blogger, Avon representative, and LOVES playing with makeup. You can find her on Youtube as well. She is the proud grandmother of 2 wonderful grandchildren. You can visit Tammy at
MakeUp Products Online
. You can also subscribe and follow Tammy's Makeup and Beauty videos
Here
.