From The Prepared Pantry
Years ago, probably when we still lived in Alaska, I bought this little cookbook called, The Weekend Chef. In it was a recipe for an everything-on-it pizza. It turned out to have a big thick crust and a boatload of toppings. The crust was partially baked and the meats precooked and the toppings loaded on and the pizza pushed back into the oven. It really good but with all that prep and rising twice, it seemed like an all-afternoon project. It was too big and too rich and I still remember the heavy feeling after dinner.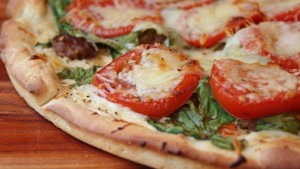 I don't eat pizzas like that anymore. Over the years, our pizzas have become lighter and thinner, certainly healthier. The crusts are thin and crisp. The toppings are much fewer, often with fresh veggies, and with a light layer of cheeses. I'm enjoying these pizzas and I don't have to look away if I see my doctor in town.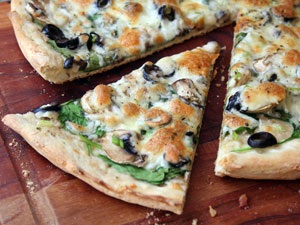 Thin Crusts
Debbie Frantzen, our daughter and operations manager, is the queen of thin crust pizzas. She takes our pizza dough mixes, adds the water, mixes them, and then divides them in half. She uses a pizza stone and a pizza peel and makes two 14-inch pizzas out of one mix. She rolls them very thin and bakes them crispy on a preheated pizza stone.
I'm lazy. I just roll about two-thirds the dough out in a dark colored pizza pan. I have enough dough left for a couple calzones. I have two pizza pans, an old battered relic that's nearly black from use and a newer perforated pizza pan that is perfect. I sprinkle a little cornmeal on the greased pan and roll the dough in pan using a pizza roller. The dark pans absorb heat and the thin crusts bake quickly and crisply.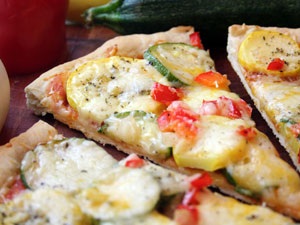 Quick and Easy
Debbie taught me that you don't have to stop and let the crusts rise. If you make and roll the crusts first, they'll rise enough while you're prepping and loading the toppings. Plus you'll get oven spring, a rise in the oven, and the crusts will be crispy by the time the toppings are done. It makes for a very quick and simple pizza.
If you grease the pans well and sprinkle them with cornmeal, the pizzas will slip right off the pan. Slip a spatula under the pizzas and twist it around the pizza to make sure that it is not sticking anywhere, clasp the pizza with the spatula underneath and your thumb on top of the edge of the crust, and quickly slip it off the pan onto a cooling rack. You need to remove the pizza from the pan immediately so that it doesn't sweat.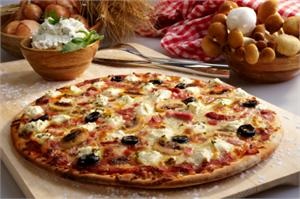 Making the Dough
The enemy of thin crusts is "springback." The gluten in the dough makes the dough elastic. As you try rolling it thinly, it springs back. It has a memory and doesn't want to roll out thinly and smoothly. It's almost impossible.
When we first started developing our pizza dough mixes, we added rye flour to dilute the wheat gluten. We still couldn't get the dough soft enough. So we started experimenting with commercial dough relaxers. We found one that was like magic. We could make the dough just s soft and pliable as we wanted and absolutely eliminate springback. We now use this in all our pizza dough mixes and tortilla mixes.
Since we absolutely love this relaxer, we now package and sell it. If you are going to make pizza dough from scratch, buy this dough relaxer. It's essential to your thin crust pizzas.
We also sell a pizza flour blend with the dough relaxer already added. The amount of relaxer in this blend is just right.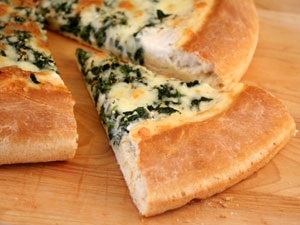 White Sauces
Debbie discovered a white sauce pizza in the little one-service-station town where she lives, Ririe, Idaho. It had a white sauce made with minced onions and topped with new red potatoes sliced thinly. She brought some to work; it was very good.
Since then, we have experimented with all kinds of white sauces. Alfredo works well but there are a hundred other choices. Here is a list of those we have tried:
White Alfredo pasta sauce
French onion chip dip (You can make a great pizza with this.)
Ranch salad dressing (Doesn't ranch make everything better?)
Chip dip made with dry onion soup mixes (quick, cheap, and surprisingly good)
Elki dips and spreads (These cost a little more but make some very fine pizzas. Debbie likes the creamy roasted red pepper spread; I like the pineapple cream cheese spread.)
You can see the possibilities. Just keep experimenting
Light Toppings
We mentioned the potato pizza above. Consider fresh veggies on your pizza. I'm particularly fond of fresh tomato slices
but we've made pizzas with green beans, with zucchini, and broccoli—often with no meat. Top the veggies with a thin layer of cheeses.
Dennis Weaver is the founder of The Prepared Pantry. He is the author of How to Bake, a 318 page book about the art and science of baking. You can download a free copy of How to Bake Here!
Kindle, Nook and iPad versions available. — I personally have the free "How To Bake" book on Kindle and it's a 100% excellent resource! 🙂
Copyright © Dennis Weaver :: The Prepared Pantry :: Grandma's Home Blogger Place :: All Rights Reserved
The following two tabs change content below.

Tammy Embrich
-- Full time work from home, writer, blogger, Avon representative, and LOVES playing with makeup. She is the proud grandmother of 2 wonderful grand blessings. You can visit Tammy at
MakeUp Products Online
.