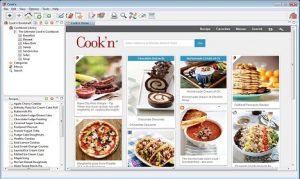 Look What Was In My Inbox This Morning! <3
From DVO.com/ ~~ Via Dan Oaks
The following are delicious recipes I thought would be yummy ideas for Thanksgiving breakfast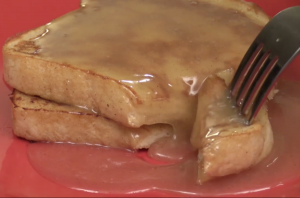 Egg Nog French Toast and Egg Nog Syrup
Serving size: 15
Calories per serving: 511
Ingredients
5 eggs
3/4 cup eggnog
1 teaspoon vanilla extract
1 pinch salt
cinnamon, as much as you like
10 slices bread
Egg Nog Syrup
1/2 cup butter
1 cup sugar
1/2 cup eggnog
1 teaspoon vanilla extract
1 teaspoon baking soda
1/2 teaspoon cinnamon
Directions
For the French Toast, add the first 5 ingredients to a pie plate and whisk until they are completely mixed together. Spray a large frying pan with non stick cooking spray and heat on medium. Dip bread in egg mixture on both sides and fry until golden brown on both sides.
For the Syrup, add butter, sugar, and eggnog to a large pot and cook on medium and stir constantly until it comes to a boil. Let syrup boil for 1 minute, remove from heat, and whisk in vanilla and baking soda. Mixture will bubble up and then settle into a yummy syrup.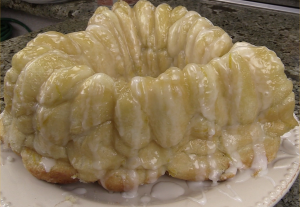 Lemon Monkey Bread
By Kathy Oaks
Prep time: 10 minutes
Cook time: 20 minutes
Yield: 1 monkey feast
Serving size: 12
Calories per serving: 324
Ingredients
12 Rhodes Texas Rolls
3/4 cup sugar
2/3 cup butter, melted
zest from 1 lemon
Glaze:
1 cup powdered sugar
juice from half of a lemon
1 teaspoon vanilla extract
Directions
Zest lemon and mix with sugar. Cut rolls in to fourths. Place the cut bread into a bowl and pour in the butter and 3/4 of the sugar, and lemon zest mixture. Mix together with your hands until all the dough pieces are covered.
Spray bundt pan with non-stick cooking spray and place the dough around evenly in the bundt pan. Let rise until double. Sprinkle the rest of the sugar and lemon zest on top and bake at 350° for 20-25 minutes.
For the glaze, mix powdered sugar, lemon juice, and vanilla together.
When the bread is finished baking, invert to remove from bundt pan and pour glaze over the top.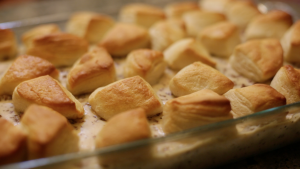 Biscuits and Sausage Gravy Casserole
Serving size: 12
Calories per serving: 284
Ingredients
2 cans Grands refrigerated biscuits
1 pound sausage
1/3 cup olive oil
1/2 cup flour
5 cups milk
1 teaspoon salt
1 teaspoon pepper
Directions
Open one can of biscuits and quarter them with a pizza cutter. Layer them in a large casserole dish that has been sprayed with non stick cooking spray. Bake them at 350° for 10 minutes.
While they are cooking start frying sausage in a large frying pan. when sausage is fully cooked add oil and whisk in flour until all lumps are gone. Add milk slowly and continue to whisk to avoid lumps.
Add salt and pepper and cook until mixture thickens. When the biscuits are cooked top with gravy mixture. Quarter the other can of biscuits and layer them on top. Bake again at 350° for 20 minutes.
Thank you for reading and stopping by! <3
Hope you all have a blessed Thanksgiving! God Bless =)

The following two tabs change content below.

Tammy Embrich
-- Full time work from home, writer, blogger, YouTube content creator, and LOVES playing with makeup. She is the proud grandmother of 2 wonderful grand blessings. You can visit Tammy at
MakeUp Products Online
.