Festive Colored Porcelain Ramekins – A Perfect Gift For The Holidays!
Brighten up your kitchen 🙂
Perfect Gift For That Special Grandma On Your List This Year!
On Sale Now – ONLY $5.99 — Was $19.99 –4 Piece Set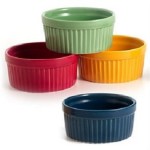 These are cute, they're pretty, and will add a splash of color to any kitchen. But let me tell you what you'll use them for. These ramekins make great:
* Baking dishes
* Serving dishes
* Condiment dishes
* Utility dishes
* Staging dishes for ingredients
Ramekin Recipes Ideas for Little Cakes and Individual Desserts
We sold thousands of these ramekins in January. We heard over and over:. "They're pretty—what do you do with ramekins?"
They're handy baking cups. Traditionally, they're used for custards, crème brulee, and desserts. They're great for fancy little cakes and cobblers. We have a recipe for a blueberry lemon crisp we were going to bake in these cups and just haven't gotten that far. You can convert many desserts—like cobblers and crisps—into individual desserts baked in ramekins. Little chicken pot pies work in ramekins.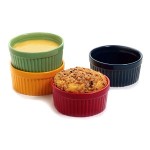 There are hundreds of things you can bake with them. Use these classy porcelain ramekins in the oven for crème brulee, molten lava cakes, custards, soufflés, muffins, and desserts. You'll find lots of uses for these pretty little porcelain dishes.
Give these as a gift or get them for yourself and add a splash of color to your kitchen.
~*~*~*~*~*~*~*~*~*~*~*~*~*~*~
Learn The Art Of Baking!
We'll teach you everything you need to know to become an expert in the kitchen.
With 200 pages full of our favorite recipes and our best tips, you'll be baking up a storm in no time. You'll learn all the skills they teach in culinary school, without the hefty tuition. Regain your confidence in the kitchen and become a better baker today. 🙂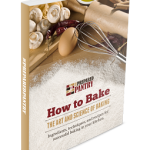 Grab It
FREE
Here!

The following two tabs change content below.

Tammy Embrich
-- Full time work from home, writer, blogger, YouTube content creator, and LOVES playing with makeup. She is the proud grandmother of 2 wonderful grand blessings. You can visit Tammy at
MakeUp Products Online
.