Follow my blog with Bloglovin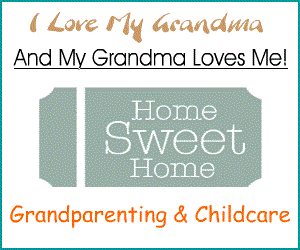 I very seldom post an entry from an unsolicited source, or from content that has already been posted elsewhere. However, I found this post enlightening on a growing grandparenting issue. More and more grandparents are raising their grandchildren these days. And what a GRAND job! I thought the post would benefit my readers. 🙂
From Nannyjobs.org
For many families, Grandma is the first childcare choice. Parents love the idea of a family member whom they know and trust caring for the kids. But there are challenges that automatically come with this childcare option. Here are some questions parents should think about before having Grandma care for their kids.
What type of relationship do each of you want?
Defining the relationship is the first step in making it work long term. One side may want an informal arrangement, where it feels like the grandparent simply visits often rather than provides formal care. In those cases, the primary relationship doesn't change, it just expands a bit to include this new way of interacting.
The other side may want a more formal childcare arrangement, where the parent takes on the role of employer and the grandparent takes on the role of employee. Both sides must want the relationship to develop in the same direction, otherwise problems will quickly come up and the arrangement simply won't work. Having mismatched ideas around this issue can also damage the core relationship, so this is a particularly important issue to tackle early on.
Where will Grandma provide care?
For some parents who want an arrangement close to nanny care, it's important that the child is cared for in his own home. The parent wants Grandma to….

The following two tabs change content below.

Tammy Embrich -- Full time work from home, writer, blogger, YouTube content creator, and LOVES playing with makeup. She is the proud grandmother of 2 wonderful grand blessings. You can visit Tammy at
MakeUp Products Online
.