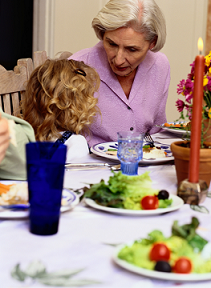 Whether you're celebrating National Grandparents Day in September, taking an annual family vacation or just going for a quick weekend trip, Chicago offers plenty of family-friendly attractions, lodging and restaurants. Not sure how to get started planning your trip? Check out this list of the Windy City's best kid-friendly attractions, places to stay and places to eat.
Where to stay
With so many to choose from, finding the best hotels that are a perfect fit for both kids and grandparents can be a difficult task. Check out this list of great, family friendly Chicago hotels to start your search.
The James Hotel: Located in the heart of the city, the James Hotel joined forces with renowned kid-friendly artist Paul Frank to create a welcome kit around the famous Julius the Monkey. At check-in, kids receive Julius the Monkey themed books, games, pajamas and coloring pages. Rates for the James Hotel start at $180 per night.
The Drake Hotel: Known for its representation of Chicago's glamorous 1920s era, the Drake Hotel is a national landmark and a great place for grandparents with young granddaughters. The hotel offers an American Girl Place package that comes with a personalized welcome letter, a travel-sized bed for her American Girl doll and free access to the hotel's entire on-site library of American Girl books. Rates start at $159 per night.
Key Lime Cove Waterpark Resort: If your grandkids love the water and you'd rather stay a little ways outside of the big city, the Key Lime Cove offers the perfect waterpark getaway. With a tropical theme and an indoor water park that features plenty of waterslides to go around, your grandkids can have days of fun at Key Lime Cove.
Where to eat
Super Dawg Drive-In: Give your grandkids a look into the past with this affordable and delicious family-friendly drive-in. Featured on the Food Network and in the national bestseller 1,000 Places to See Before you Die, this drive-in serves up classics like hot dogs, burgers, shakes and fries right to your car window.
The Rainforest Café: If you could use a break from being in the heart of the big city, you can escape it all without even leaving. Chicago's Rainforest Café features a restaurant-meets-rainforest wildlife theme that your grandkids are sure to love. The innovative and fun-filled menu offers items like dinosaur-shaped chicken and a volcano dessert.
The Choo-Choo Hamburgers on Wheels: Allow your grandkids the rare opportunity to play with their food when you visit to the Choo-Choo Hamburgers on Wheels restaurant. This kid-friendly favorite serves its hot dogs, cheeseburgers or grilled cheese sandwiches from a toy train set. The customized Kids' Menu is sure to include all of your grandchildren's favorite foods.
Where to go and what to see

Shedd Aquarium: If your grandkids are fascinated by underwater life, Shedd Aquarium is a must-see. A great venue for all ages, Shedd Aquarium features a breathtaking Aquatic Show with flipping dolphins and dancing belugas. The 4-D experience has special seating designed to maximize the theatrical experience and includes sensory elements like wind, smells and bubbles.
Navy Pier: As one of Chicago's most famous landmarks, the Navy Pier provides the perfect opportunity to spend a day on Lake Michigan and enjoy attractions like the 15-story tall Ferris wheel, retail shops, the Family Pavilion and even cruises.
Buckingham Fountain: The largest water fountain in the world, Buckingham Fountain is free year-round and puts on scheduled water shows all day long with color-light and water shows several times each evening.
Always be sure to plan your trip and book your hotel well in advance. Create a budget, stick to it and be sure to factor in items like possible cab fare or souvenirs. If you plan to visit a lot of Chicago's main attractions like the Field Museum, Skydeck, Shedd Aquarium, John Hancock Observatory and more, consider investing in a Chicago City Pass that lets you visit all of the top attractions at discounted rates.
About The Author
Danielle blogs on behalf of Sears and other brands she uses. She tries to visit Chicago at least three times a year and has become a professional at finding and booking family friendly Chicago hotels. She loves Chi-town's food, but hates finding parking.
The following two tabs change content below.

Tammy Embrich
-- Full time work from home, writer, blogger, YouTube content creator, and LOVES playing with makeup. She is the proud grandmother of 2 wonderful grand blessings. You can visit Tammy at
MakeUp Products Online
.