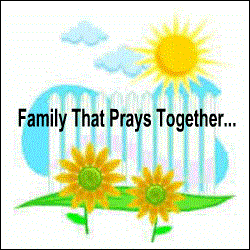 Things have been crazy around our house as of late. Nothing is going according to plan and some days I feel as if I could just go running and screaming down the road and not look back. That is if I did not absolutely love and adore all of the wonderful people in my family. We may not see things the same or think the same way but there is one undeniable fact holding us together, we love each other. I have heard we are not the only family that has issues. Is there a picture perfect family out there? I have yet to discover one.
In the past few months I have a son who has gotten himself into some trouble. Teenagers; you cannot live with them but you cannot live without them. I think that is what they say about husbands and wives but it works well in this case too. My son and I are on a different planet most days but everyone in a while we find ourselves sharing a moment where we actually connect. When this happens I find that I usually stop breathing because I feel like if I do the moment will end. In these moments I remember the little boy that used to think I knew everything and looked at me as if I were the core of his world. *Sigh*
I also have a daughter who has changed quite a bit over the last year which is quite hard for me to take. She is in her late twenties and is now in a serious relationship. It kind of makes me wish she had gotten into a relationship earlier, but not really. I have had her all these years, we have been buddies and pals, and we have shared jokes and have loved the same foods, movies, and games. Now that she has her beau she is much more interested in what he is thinking, feeling, and what his likes are. I know she still loves me but I am no longer the "go to" for sharing information. I knew this day would come and even prayed for her to find the right fella but since it has come I find myself in a tug of war between being happy for her and resenting her new relationship. I know in my heart which way this rope pull will go. Such is life.
You never think about things like this when your children are born, at least I did not. Who thinks about their children getting into trouble or leaving you for a new love when you are holding them in your arms? But as all this has been taking place lately I have realized that God allows all this to happen to make us stronger and to help us to keep our focus on Him and not our children. God gives us family but they are blessings, they are not intended to take the place of our heavenly Father. When we put our family in the position of being what we live for instead of God it never works out. Even our family will let us down from time to time even if it is not intentional. This is something that I am thankful I am learning. God is always the same, He never changes, and He is never going to let His children down.
There is another huge event that has taken place just this past week in my life which has made me realize how much I depend on my family instead of seeing them as temporary blessings. My Mom has recently found out that she had a blocked carotid artery which had to be worked on immediately. We spent five days in the hospital together. I know there are some of you that have slept on those little pull out chair/couch contraptions they have in some of the hospital rooms. That is where I have spent most of the last week. I do not think I have one single place on my body that doesn't hurt.
Mom's birthday is next week and she will be seventy-seven. They found out when they were doing this surgery that she also needs a triple bypass two weeks after she gets out of the hospital. My heart fell when I heard the news. My Mom is going to live until Jesus returns; at least that is what I have engrained in my mind. She is vibrant, alive, and constantly in motion. Just the week before she was at her sister's house who is seventy cutting down a big tree with the chainsaw I bought her for Christmas. Yes a chainsaw and she asked for it. She is stronger and much heartier than I am and most people I know as well. She is seldom sick and has always been there for me, always. I just keep thinking over and over that I have to keep my eyes on Jesus and trust Him with my Momma. This is a reminder of how important it is to love your parents with all your heart and treat them well for as long as they are with you. Which in my case by God's great grace is until Jesus comes!
When things like this happen your whole world starts to shake and you find yourself wondering what in the world is happening. I really do not know what people do who do not have faith in God at these times. I find myself going out of control emotionally and then He reminds me who is in charge of everything and how much He loves us all. He does everything for the good of those who love Him and when I remember this in those panicked moments and ask for His peace then everything becomes alright.
Another added bit of excitement is when the siblings come into town to see Mom and the cousins and the aunts, and the old friends. Throw all these people into the pot, some of them staying in your home and just as upset as you are, and you have a wonderful recipe for high anxiety. This is the time that you can let family make you stronger or take you down. They are the few rare people that actually have this power over you, like it or not. And it is all because of love. This is the reason why we hurt the people we love most. We know they will not stop loving us and we can get down to the last raw nerve in their body and (in most families) things return to the normal loving relationship within just a short period of time. This is especially true in the parent/children/sibling relationships, isn't that an amazing thing? It is a love thing and that is what makes the family strong.
I don't know who is reading this or what your belief system is. If you are a Bible believing, born again Christian you know from the Word of God that this is Satan's plan, to destroy the family. He knows that if he can get the family in chaos that everything else will fall. I am extremely thankful that I am not just running on my love but that I have the love of God in my life so that all these hurdles can be met and overcome. Life is hard sometimes but love is oh so much stronger.
As I am writing this I am also waiting for one of my brothers to come into town. It is a strange phenomenon that happens in families all over the world; kids can grow up in the same identical family and not be a thing alike. My brother and I could not be more opposite. We have learned over the years to bend with each other's idiosyncrasies and love each other despite these differences. I, being the less confrontational, find myself backing down more often, not conceding mind you, just shutting it down for the sake of love, peace, and harmony.
Strong families have problems, strong families go through crises, and strong families disagree. But what keeps families strong is the knowledge that family is important and love is what binds them. They refuse to let go and they trust in that love to keep them together. They never give up and they never surrender.
About The Author:
Sara is an active nanny as well as an active freelance writer. She is a frequent contributor of https://www.nannypro.com/. Learn more about Sara Here.
The following two tabs change content below.

Tammy Embrich
-- Full time work from home, writer, blogger, YouTube content creator, and LOVES playing with makeup. She is the proud grandmother of 2 wonderful grand blessings. You can visit Tammy at
MakeUp Products Online
.