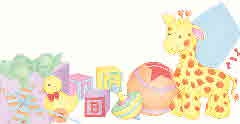 You're a Grandma, and your grandbaby makes you smile every day. You can't wait to feel her smooth skin next to yours as you pat her to sleep. Your experience caring for your grandbaby becomes even sweeter for you and her when you stock six must-have baby supplies in your home.
Crib
Naptime is an important ritual for most babies, and you'll probably appreciate her downtime for a nap of your own. Simplify naptime with a crib.
When shopping for cribs, choose one that's constructed with JPMA certified materials. It should include a comfortable mattress. Provide a sheet and blanket to help your grandbaby nap comfortably, but limit stuffed animals and oversized blankets that pose suffocation risks. Assemble the crib in a quiet room, and give your grandbaby a place where she can sleep peacefully.
Portable Play Yard
You could sit and hold your grandbaby all day, but you sometimes need a safe place to lay her down. Especially when you need a bathroom break or must walk into another room, a portable play yard protects your grandbaby.
This essential piece of furniture includes mesh sides, sturdy legs and a mattress. It won't collapse or tip over. Whenever you need to take a quick break, confidently place your bundle of joy into this safe enclosure that protects her until you return.
Booster Seat
As soon as your grandbaby eats solid foods, she's ready for a booster seat. It straps securely onto your kitchen chairs and folds for easy storage. It includes a 3-point safety harness, machine washable chair pad and dishwasher safe tray.
As your grandbaby grows, she can pick up small pieces of food you place on the tray and feed herself. The chair also serves as an activity center where she can safely sit and play with toys while you prepare lunch.
Toys
Most babies love brightly colored toys that make noise. Set aside a few toys your grandbaby can easily hold in her hand. Make sure the toys include baby-safe materials and no sharp edges.
You may also consider storing a favorite blanket or stuffed animal. Spare favorite toys provide your grandbaby with the comforts of home as she spends quality time with grandma. 🙂
Bathtub
Every grandma knows that mealtime can be messy time. Give baby a bath, and clean her up before play or nap time. Just remember to buy the same brand of baby soap and shampoo that your grandbaby uses at home, and prevent painful and itchy rashes on her sensitive skin.
Baths are also great for calming fussy babies, as part of a bedtime routine or after a diaper mess. You'll both be grateful for the bathtub that freshens your grandbaby any time of day.
First Aid Kit
Sick babies long for their moms, and you may occasionally be caring for your grandbaby when she's not feeling well. Stock a supply of infant first aid products. It will include items that provide physical comfort when baby doesn't feel her best.
thermometer
infant pain reliever and fever reducer
gripe water
teething cream
diaper rash ointment
The joy of being a grandma is almost incomparable to any other experience. When your grandbaby visits, enjoy your time and keep her safe and comfortable with six must-have baby supplies. With these items, you will both enjoy your precious time together.
About The Author
Danielle writes on behalf of Sears and other brands she uses. Her sister keeps a full size crib at her mom's house, but Danielle is considering getting them a fold-away crib that takes up less space for Christmas.
The following two tabs change content below.

Tammy Embrich
-- Full time work from home, writer, blogger, YouTube content creator, and LOVES playing with makeup. She is the proud grandmother of 2 wonderful grand blessings. You can visit Tammy at
MakeUp Products Online
.