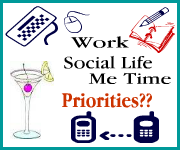 Hello there 🙂
This post has been a long time coming. This past year sure has been a busy one! Been a little too busy for me. My time has been split in way too many directions. I'll be making some important decisions between now and January!
What's Been On My Plate?
* This Blog – My Pride and Joy, It's a Keeper! 🙂 A PRIORITY
* My First WAH Website, It's Been My Baby Since 2005 – Not Sure???

* My Other Dust Collecting WAH Website, It's Going! 🙂
* My Craft Blog, It's Going! 🙁 Not Enough Time!
* Content Writing For Sites and Blogs – I Have to Keep This Going to Keep my Head Above Water! 😉 A PRIORITY
* Writing For Clients – This Is Definitely Something I Want To Keep Doing and, Even More Of It In 2013! 🙂
* Hubby – Definitely a Keeper! LOL… AND Need To Give Him More Of My Time!

* Laundry – No Comment!

* Cleaning – No Comment!

* Finances – No Comment!

* Me Time – Definitely a Lot More Of This in 2013!! A PRIORITY lol
* New Website (In The Thinking Stage) – Yes, I'm dwelling on another website. IF I decide to go ahead with it, this one will be for My Freelance and Ghostwriting Services, and Writing Opportunities in General. (Maybe) A PRIORITY
* Being A Grandmother – THIS ONE'S A KEEPER FOR SURE!!!! I have awesome news…however, I can't broadcast this yet!! LOL
Our vacation in December will definitely put some needed perspective on everything
A Note About My Craft Blog – The blog itself is going soon. However, I will keep most of the content that's on it by transferring it on This Blog.
So we'll see what's ahead for the coming year?? A lot could happen between now and then! lol
However, stay tuned Here for sure for new stuff I have planned for 2013.
Reviews :: Crafts :: Grandparenting Tips :: Parenting Tips :: Recipes :: and much more!
Have an awesome day! 😉
The following two tabs change content below.

Tammy Embrich
-- Full time work from home, writer, blogger, YouTube content creator, and LOVES playing with makeup. She is the proud grandmother of 2 wonderful grand blessings. You can visit Tammy at
MakeUp Products Online
.