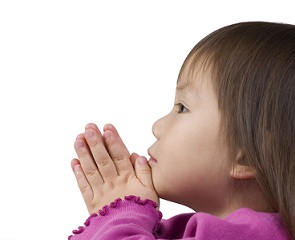 By: Lori Lauth
Prayer is a wonderful part of Christian life. We get the opportunity to have a conversation with God. We can have this time with him as often as we want.
As a child, my mother was the one that influenced my prayer life. In fact, she used to take me to some prayer meetings with her. I learned so much by being around the seasoned Christians. They would often pray over me and teach me scripture. I learned how to pray and then wait to hear that still small voice of the Lord.
With my children, we have prayer time everyday on the way to school. At first they would ask Jesus to bless Barbie but as the years have gone by they now pray for the school, our community, the country and our president. I have taught them the beauty of being quiet and waiting for that still small voice just like my mom and others taught me.
I hope you will take some time to pray with the children in your life. Teach them prayer is just a conversation. Show them by example and then let them have a turn even if they ask the Lord to bless Barbie. Remember they are learning and it's a progression.
Train up a child in the way he should go: and when he is old, he will not depart from it. Proverbs 22:6 KJV
Has this article blessed you? Maybe it's reminded you to hang out with a child and talk about Jesus. Would you share a comment below? We would love to hear from you!
Article Written By Lori Lauth From – Life Lessons For Christian Women.
Have a great day! 🙂