Mother Knows is the first and one of a kind service for health records for children, NOW AVAILABLE by web and mobile. How awesome is that?! 🙂
All Securely Displayed!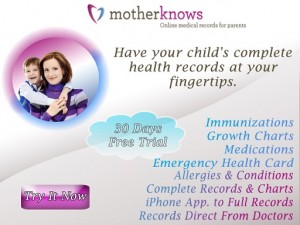 Childhood health data includes: immunizations and growth charts (from any doctor of your choice) and lots more!
The MotherKnows service also includes the ability to upload all your children's milestones to share with Grandparents and caregivers.
Sufficiently organized health information at your fingertips!
A couple of excellent features and taken directly from the site…
~~~ We contact & collect your child's health records from your doctor. No effort required on your part ~~~
~~~ The Mother Knows iPhone app provides access to your child's medical records when you travel or in case of emergency ~~~
Supported By CBS News, Family Circle, and Today, just to name a few!
Support Electronic Health Records and Subscribe Today!