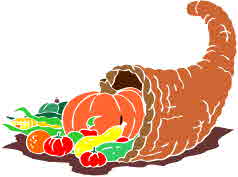 By Gail Tucker –
I wanted to share this heart-warming story from Guideposts. Hope you enjoy, as well as the scriptures that follow 🙂
Normally, I'm the first one to be in the Thanksgiving spirit, but as I pushed my cart through the grocery store I wished we could skip it this year. I passed the turkey, stuffing and pumpkin pie without a glance. Mom wouldn't be with us, and neither would anyone else. What kind of Thanksgiving was that?
Mom was in Read More
Some Scriptures On Thanksgving
Psalm 100
"Make a joyful noise unto the LORD, all ye lands. Serve the LORD with gladness: come before his presence with singing. Know ye that the LORD he is God: it is he that hath made us, and not we ourselves; we are his people, and the sheep of his pasture. Enter into his gates with thanksgiving, and into his courts with praise: be thankful unto him, and bless his name. For the LORD is good; his mercy is everlasting; and his truth endureth to all generations."
Psalm 97:12
Rejoice in the Lord, O you righteous,
and give thanks to his holy name!
Hebrews 13:15
Through him then let us continually offer up a sacrifice of praise to God, that is, the fruit of lips that acknowledge his name
Rev. 7:12
Blessing, and glory, and thanksgiving, and honor be unto our God
1 Chronicles 29:13
Now, our God, we give you thanks, and praise your glorious name.
Jonah 2:9
But I, with a song of thanksgiving, will sacrifice to you. What I have vowed I will make good. Salvation comes from the LORD."
It is my wish that every one of you to have a joyous and safe, Happy Thanksgiving! Spend it with your family and be thankful for them and most importanty, love them!!