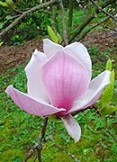 Early this week, I needed to step back and take a long look at what I was feeling during (what felt like to me), a small family crises. I did not like what was happening and how I was handling my feelings! 🙁
I needed to look up some Bible scriptures on "forgiveness" (again). My family means the world to me; just like the rest of us. However, we all need to stop sometimes and take notice what is going on in our lives and also notice what IS IMPORTANT. Swallow some pride and let things roll off, and just let things go for your sanity and also your family's sanity! 😉
Some Scriptures On Forgiveness
Psalm 86:4-5 Gladden the soul of your servant, for to you, O Lord, do I lift up my soul. For you, O Lord, are good and forgiving, abounding in steadfast love to all who call upon you.
Psalm 103:8-12 The LORD is merciful and gracious, slow to anger and abounding in steadfast love. He will not always chide, nor will he keep his anger forever. He does not deal with us according to our sins, nor repay us according to our iniquities. For as high as the heavens are above the earth, so great is his steadfast love toward those who fear him; as far as the east is from the west, so far does he remove our transgressions from us.
Matthew 5:22-24 But I say to you that everyone who is angry with his brother will be liable to judgment; whoever insults his brother will be liable to the council; and whoever says, 'You fool!' will be liable to the hell of fire. So if you are offering your gift at the altar and there remember that your brother has something against you, leave your gift there before the altar and go. First be reconciled to your brother, and then come and offer your gift.
Luke 23:43 "…Therefore I tell you, her sins, which are many, are forgiven—for she loved much. But he who is forgiven little, loves little." And he said to her, "Your sins are forgiven." (Jesus speaking to the thief on the cross)
A Little Of What I Get In A Favorite Newsletter!
The Heavenly Company of Angels
In Heavenly Company, you'll travel to Texas, to Russia, to Africa, and read about real-life encounters with God's heavenly angels and the earth angels who appear out of nowhere in a time of need.
You'll meet guardian angels, protector angels, warning angels and comforting angels, as well as mysterious strangers whose help makes all the difference. These are remarkable stories by real people who were touched by angels—briefly, or in life-changing ways.
Heavenly wonders are happening all around us, near and far. We don't have space in our bimonthly Angels on Earth to fit them all, so thank heavens for collections like Heavenly Company. 🙂
You can sign up for Guideposts Newsletter Here!