If you're like me you may have thought age spots were from aging, but that's not the case. From what I've researched, most age spots are from the sun. While the sun gives you Vitamin D and is needed for mental health, it can harm your skin in several ways. Too much sun can give you age spots or something worse, so it's important to take care of your skin.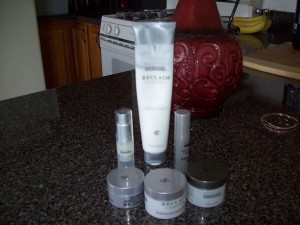 Reclaim – Principal Secret Skin Care Line
I've been using Reclaim for 3 months now and I have to say I love it. I was a little skeptical about using it, (just like all the rest of the skin care lines). I was watching the infomercial one afternoon and decided to go for it and I ordered it online. I thought to myself, I'll use the Reclaim and if I don't like it, I'll use the Cindy Crawford skin care products. My Daughter-In-Law is using Cindy Crawford and she just loves it.
Here is what I've seen so far on my skin in using Reclaim for 3 months…
1. Better over-all skin complexion
2. Less red areas and more clarity
3. My skin is super soft
4. Less visibility of the fine lines around my eyes and mouth
5. More Smoothness to my skin – One product that I just love and leaves my face feeling the smoothest I've ever felt it ever is Age Breaker Wrinkle Retreat Refirming Mask. These are small capsules that you twist to open and squirt onto your hands, then apply it to the skin before moisturizing.
~*~*~*~*~*~*~*~*~*~*~*~*~*~*~*~*~*~*~*~*~*~*~*~
If you're a grandmother and you've found you didn't take care of your skin or maybe you're a little younger and didn't take care of it properly, you need to find a way to make it look and feel better.
Here are a few suggestions. The best way to prevent age spots is to protect your skin from the sun. The easiest way to do that is to stay inside as much as you can. If that's not possible, you'll want to wear clothing that covers your skin and a hat that covers your head. If that's not possible, keep the time you spend in the sun down to a minimum and wear sun screen at all times.
If you're already showing signs of age spots, there are several things you can do to make them lighter or you can get rid of them all together. One of the best ways is to use a cream specifically designed for age spots. These creams can be used as a daily moisturizer and they'll renew your skin by lightening the dark aging spots. These creams contain Vitamin C and other ingredients that remove spots and help your skin to look healthy and feel great.
As a grandmother it's important to have the best looking skin possible so you will always look your best. One way to do that is to use a skin bleaching process. This process will lighten your age spots, but you need to be careful because skin bleach contains Hydroquinone. The reason is because Hydroquinone is dangerous and may cause cancer. You need to read the ingredients and choose a product that doesn't contain Hydroquinone. When you think of age spots you may only think of your face, but that's not always the case.
You can have age spots on your hands as well. Your hands are exposed to the sun just like your face, so you need to be careful with them too. You may find hand creams are expensive, but they're well worth it when they give you the results you're looking for and your hands will look great. One of the best hand creams would be one that contains Shea Butter.
Just because you're a grandmother doesn't mean you can't look your best at all times. When you use these tips to handle age spots you may have, you'll look your best. These suggestions may help, but you should talk to your doctor or dermatologist before starting any treatment to make sure the plan you have will work for the condition you have whether it's on your hands, arms, or face.
You can read more articles on beauty Here.