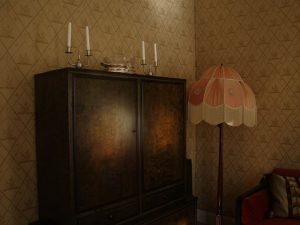 You might think automatically of your kitchen cabinets. But the earliest cabinets were smaller pieces designed for locking away important pieces of paper and valuables, and might also serve as "desks" for officials. Later, cabinets were developed as larger but stand-alone pieces for certain professions, such as an apothecary or printer. Here are five interesting facts about cabinets.
Aristocratic
The modern word "cabinet" is French in origin, and originally meant "room." This referred to rooms where certain collections were kept, such as books or artwork, so a cabinet was actually a small "room" for such items. Until around 1650, cabinets weren't common in most homes. The majority of people just didn't have many possessions. For poor and working class people, there just wasn't enough storage need to justify the expense of a hand-made cabinet. The wealthy, in the social contrast typical of the age, might have many cabinets, some of fine woods like mahogany and lavish, baroque designs.
Industrial Revolution
As the Industrial Revolution took shape in the 1700s and into the 1800s, all manner of objects became more common and more affordable, including cabinets themselves. Many forms of cabinet, such as cupboards for kitchenware, and wardrobes and armoires for the bedchambers, became mainstays in many homes once they became mass-produced items. By the mid-1700s, the average home had at least a cupboard for dishes and a wardrobe for clothes, though they were quite basic in design and materials. One advantage of the new era was the printing press. Famous craftsmen like Thomas Sheraton and Thomas Chippendale were able to publish and print books and designs on furniture concepts.
Cabinet Making
After World War II, cabinet making became a popular pursuit, as both a hobby and a respectable career, for returning soldiers on both sides of the Atlantic. A love of wood-working combined with some inspiring furniture styles they'd seen in their campaigns across Europe. Until the era of the modern factory, skilled cabinet makers who could produce fine furniture at reasonable rates were in high demand in most communities. They were gradually phased out by modern factories with electric power tools. Many of their pieces were one-of-a-kind collectibles that still fetch high prices as vintage furniture. Today, however, "cabinet maker" more aptly applies to a business than to an individual vocation.

Most Expensive
Remarkably, the most expensive cabinet ever sold went for $36 million at auction in 2004. This same piece broke its own record, set in an earlier sale in 1990. It was made in 1726 in Florence, Italy, and took six years to complete. Known as the Badminton Cabinet for the ancestral seat of the British duke who commissioned it, it's made from ebony hardwood and lavishly decorated with semi-precious stones and gold leaf. It consisted of three highly ornate tiers resting on eight pilaster legs and topped by an exquisite clock flanked by carved stallions. Purchased by the Prince of Lichtenstein, the Badminton Cabinet now sits in a museum in Vienna.
Asian Kitchens
A growing trend in home design is Asian-inspired kitchens. Asian styling utilizes geometric patterns, heavy proportions, and gentle curves. The most popular colors include red, black, white, gold, and silver. Materials tend to be metallic or bamboo, although maple is a common cross-over. Bamboo plants, screens, and baskets help round out the Asian-style décor, however. You might like Shaker-style cabinets with Oriental motifs and hardware. When you plan on custom kitchen cabinets, don't neglect overseas influences for that special ambiance.
While not everyone has the budget for extravagance, put together some creative ideas for your next remodel. You can still have a custom kitchen to be proud of.
The following two tabs change content below.

Tammy Embrich
-- Full time work from home, writer, blogger, Avon representative, and LOVES playing with makeup. She is the proud grandmother of 2 wonderful grand blessings. You can visit Tammy at
MakeUp Products Online
.