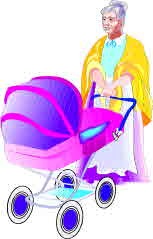 I was very fortunate to know my great-grandmother up until I was twelve years old. The memories I have of her are scattered but everything I remember is consistent in that she was a strong and faithful woman. From her belief in our Lord, her work ethics, and the way she cared for those around her my memories attest to her character. As I became an adult I would continue to see the faithfulness and love of my Great-Grandma Susie from the stories that those that loved her would tell me.
I remember as a child going to her home once or twice a week with momma. We would spend a few hours there and while we were there it was as if we had taken a trip into the past. This was in fact in the sixties so when I talk about the past I mean the long past. She was born in eighteen hundred and eighty two. Her house smelled of cinnamon apples which she often cooked up for us when we came over. Her kitchen table was one of those aluminum legged, hard white top tables from perhaps the forties and the chairs were the shiny, plastic covered padded type that made little bare legs stick when you sat too long.
Her house was small and well kept. She had a bird in a cage on her small back porch which my oldest brother would torment. She was tall and always wore homemade aprons with huge pockets and always had a hankie peeking out. My height only came up to her waist and I recall so much more about her aprons and her hands than the etchings of her face. She was stern but you knew how much she loved you. She had a pump sewing machine which was used a great deal because she made most of what she wore, along with things for others including quilts. I also recall a large picture of Jesus on her wall and another of an angel watching over some children.
When we would visit I would carry my dolls with me. When I came into the house with a doll at some point during our visit she would take me to the sewing machine and pull out a swatch of some kind of pretty material. She would then sit down and make me a new dress for my dolly. I was always fascinated when she did this, I was young and it was amazing to watch. When I got much older it was even more amazing to me since I am anything but a seamstress. How someone could do this with just a glance and no pattern is outstanding. The dress always fit dolly perfectly.
She let megive her sewing machine a try but when my brothers began to play with the pump mechanism our sewing time was over. She had jars full of buttons and I loved looking at them and sometimes I would string them up for a necklace. I could play with the buttons and my dollies for many hours, but not the boys.
When my brothers would start to get bored and began to aggravate her bird she never said a word. She lovingly went to the kitchen and started to peel an apple or get out the bread and butter to make a piece of buttered bread with sugar. Sometimes it was a piece of lettuce with sugar or a raw potato with salt. She would make something for each of us and say, "Now, go out on the back porch and eat this." We would willingly go and begin to play in the back yard.
Out in the yard was what I believe now to be a single car garage separate from the small house. But grandma had turned it into a small apartment to earn extra money. She was very resourceful and frugal; she had to be. She was alone when I knew her and taking care of herself. She was in her seventies when I met her. She had my grandmother later in life because she tried having children for a long time and was not able. They finally decided to adopt a boy and within a few months found out she was pregnant with my grandmother.
The first occupant of the little apartment behind the house I believe was a cousin of my grandma. She was a very unpleasant woman with a wart on her nose and a pointy chin and we truthfully thought she was a witch. Even though mom assured us she was not a witch her behavior told us different and we knew mom had been deceived by this woman! The second occupant was also a relative I believe but a much sweeter woman. She would invite me in and tell me stories and talk to me about my dolls. I loved spending time with my great-grandma and with this lady.
From the stories I have heard from my grandmother (my great-grandma Susie's daughter) and my mom her life went something like this. Her mother died when she was fourteen and she had a younger sister by the name of ArizonaTerritory. From the stories passed down it seems they were passing through ArizonaTerritory on a covered wagon when she was born, thus the name. We called her Aunt Zoni and she told the most amazing stories. Anyway, Grandma Susie, at fourteen years old, was sent to live with another family and help them with work around the house because her dad could not take care of both of them after the death of her mother. Essentially she was earning her food and board by working for these people.
At one point she started working for Burlington which at the time made overalls and jeans. They had huge sewing machines and needles strong enough to go through thick denim. I can only imagine how strong you had to be in your upper arms to sew jeans eight plus hours a day. The stories go that she ran one of those needles through her finger at some point. *Shudder* As you can see she was accustomed to hard work. At some point she married and got some help but in her later years was again alone and depending on the Lord and His gift of resourcefulness.
My grandma and her three children went to live in great-grandma's small home for many years when they found themselves homeless because my granddad's alcoholism had taken over his life. Mom said that great-grandma made it all work in her small home and they always felt safe and were well fed. My mom tells me how great-grandma would heat up bricks, wrap them, and put them at their feet for warmth in the winter because they depended on one wood stove for heating.
In the summer there was one large fan in the window for cooling the house. Mom and I were just talking about this yesterday because it was so hot. I was wondering how they used to do it. Of course she lived in Kansas and not Texas but it was still hot in the summers. I asked Mom how they slept in that heat. She said they would go to bed and lay there until about eleven or eleven thirty before they could sleep; by then it had gotten a little cooler. I can not even imagine.
My own grandma was born in nineteen hundred and fifteen and she was a hard working woman just like great-grandma. Sometime during WWII grandma began working in a factory. It was the Sunshine Biscuit Factory and she was on the cracker assembly lines. They did not have a car so the bus was taken everywhere. Even my own mother, before they went to live with great-grandma, was boarding the bus with bags of laundry to get the clothes washed while grandma was off at the factory.
There are three generations of very strong women in my life that have passed down their strengths and their love for God to me. I am so thankful for these women in my life and the stories from the past that make us who we are. I am doing my best to pass these beliefs, strengths, and stories on to my children. My own daughter was blessed to have known her great-grandma Naomi until she was twelve, my son was only five but he remembers so many things about her. And now they are blessed to have their grandma Darlene, my mother, living with us. My daughter is twenty-eight and my son is twenty-one and she is a huge part of their lives at seventy-seven years old. What a blessing to have this legacy of love passed down through all these years!
About The Author
Rachel is an ex-babysitting pro as well as a professional writer and blogger. She is a graduate from Iowa State University and currently writes for www.babysitting.net. She welcomes questions/comments which can be sent to rachelthomas.author @ gmail.com.
The following two tabs change content below.

Tammy Embrich
-- Full time work from home, writer, blogger, Avon representative, and LOVES playing with makeup. She is the proud grandmother of 2 wonderful grand blessings. You can visit Tammy at
MakeUp Products Online
.