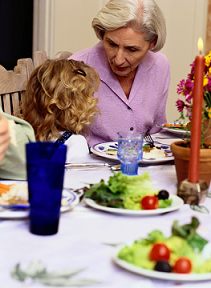 This goes for all grandmothers as well. It also shows how bonding is important with families.
Having the same caregiver throughout the years is one of the biggest draws of nanny care. Not only do kids benefit when they have consistent care, but it makes parents lives much easier too. The cornerstone to keeping your nanny for years is creating and maintaining a positive nanny/family relationship. Here are some tips for creating that bond.
It starts and ends with good communication. The nanny/parent relationship is like no other relationship. It's both personal and professional and the boundaries between the two are fluid depending on the situation. Make honest, respectful communication a priority from the beginning. Set up a way to quickly check in with each other at the end of each day and set aside time each month to have a real conversation about how things are going. Clear, regular communication will help you avoid many of the problems that often come up between employers and nannies.
Clearly outline your unique expectations. Every nanny job has typical responsibilities, like preparing meals for the child and keeping up with the child's laundry. However, every parent is…Read More
The following two tabs change content below.

Tammy Embrich
-- Full time work from home, writer, blogger, Avon representative, and LOVES playing with makeup. She is the proud grandmother of 2 wonderful grandchildren. You can visit Tammy at
MakeUp Products Online
.