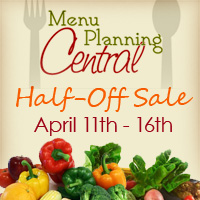 With spring in full swing, I find our family desiring to spend more time outside enjoying the weather and that leaves me less time to spend in the kitchen. However, we all still want to eat, and we don't want to spend the money eating out frequently. I have returned to focusing on simple family friendly meals from one of my favorite resources – Menu Planning Central.
Within Menu Planning Central you will find pre-made family friendly, healthy, vegetarian and frugal meals with printable grocery shopping lists.
It is so easy to print off your menu for the week, shop and cook! 🙂
Personally, I LOVE the My Menu Maker Software offered to members. Here you can pick and choose from over 1700 recipes (or add your own) and create a
meal and shopping list that is perfect for your family. They even allow you to enter in allergies and food preferences to make choosing recipes
quick and easy. The monthly resources and bonus' (Many not mentioned on the sales page) are worth quite a bit in and of themselves!
Christine "The Menu Mom" has just let me know that she is running her annual half-off sale for Menu Planning Central this week! Now is the time
to check out Menu Planning Central, and you have nothing to lose, as she offers a 100% money-back guarantee.
Go take a peek and I'll see you on the members only Facebook Page after you join!
This resource should make your spring and summer meal-planning much simpler! Simply Print, Shop and Cook – feeding your family has never been
this easy!
You will LOVE it! PROMISE!
Get It Here

Copyright © All Rights Reserved – Menu Planning Central – Grandma's Home Blogger Place
The following two tabs change content below.

Tammy Embrich
-- Full time work from home, writer, blogger, Avon representative, and LOVES playing with makeup. You can find her on Youtube as well. She is the proud grandmother of 2 wonderful grandchildren. You can visit Tammy at
MakeUp Products Online
. You can also subscribe and follow Tammy's Makeup and Beauty videos
Here
.