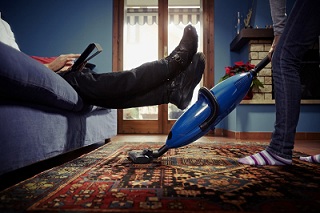 Fine upholstery is something to be proud of, but not until it starts getting dirty, yellowed or stained – not very presentable. The upholstery is one of the dirtiest areas whether you notice it or not. In fact, every time you vacuum the carpet and the floors you should vacuum the sofa, stools and armchairs too.
Many people overlook this area, assuming it looks just fine, when the truth is that it's just as dusty, dirty and covered in grime and hairs as any other area with fibers. If you take good care of the upholstery, the fabric will live much longer than usual. Almost all fabrics allow some kind of washing, so make sure you don't skip this area.
If you don't wash the upholstery, all the dust, sweat and other particles go deeper into the fibers, which lead to the material gradually declining, yellowing and becoming rougher. It's essential to understand how the quality upholstery cleaners work. Rinsing is easy: You can wash the upholstery fabric quickly and easily in just a little water, so it can dry quickly as well. The great thing is that there is no residue of cleaner which would act like a dust magnet.
If you choose a material purifier which is made of the right chemicals, spot treating won't lead to damage of the upholstery. If the product is powerful, you don't have to rub or scrub the surface, so there is less damage. So how should you clean your upholstery?
If you don't wash the stains as soon as possible, they will become permanent. You can do spot cleaning with liquid dishwashing detergent and some vinegar. For deodorizing use baking soda – it's a great green solution which does wonders. At least once a week vacuum the upholstery using the dust attachment on the vacuum cleaner, and reach up to the crevices. This will keep the fabric cleaner on its top level.
Regular spot cleaning will preserve the life of your upholstery for longer. Use a white cloth or a sponge and a detergent such as hair shampoo, dishwashing liquid or wool detergent. First, test it on a hidden area to make sure it won't decolorize the fabric. Don't use too much water on upholstery, just a damp cloth.
Allow the fabric to dry or use a hair dryer. Check if the stain is completely removed after the fabric is dry and if necessary repeat the cleaning steps again. One of the best techniques for cleaning upholstery fabric is with dry cleaning, which includes natural detergents and chemicals.
The treatment is quick and efficient, so the fabric is not too wet and the solution doesn't penetrate the stuffing on the furniture. This technique needs special equipment, so if you can invest in professional upholstery dry cleaning services, you should definitely do it.
The right cleaning of upholstery depends on the type of material too – check to see the label on your sofa or armchair and clean accordingly. Some fabrics allow being washed whereas others need professional cleaning technique or just spot treatment.
Preserving the life of your upholstery for longer is a lot about prevention – if you make sure that you vacuum it regularly and you don't sit with dirty clothes anywhere near it, the fabric can look like new for years.
About The Author
Nicole is passionate about travelling and flowers. Learn more about how to keep your home clean at http://www.housecleaning.org/news.html .
The following two tabs change content below.

Tammy Embrich
-- Full time work from home, writer, blogger, Avon representative, and LOVES playing with makeup. You can find her on Youtube as well. She is the proud grandmother of 2 wonderful grandchildren. You can visit Tammy at
MakeUp Products Online
. You can also subscribe and follow Tammy's Makeup and Beauty videos
Here
.