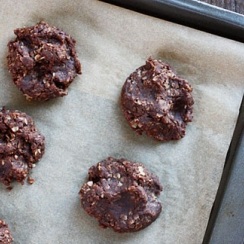 Photo Source Smart Balance
These cookies are my absolute FAV of my mom's recipes! 🙂
No Bake Cookies
Ingredients
2 c. sugar
1/2 c. milk
1/4 c. cocoa (unsweetened)
1 stick margarine
1/2 c. smooth peanut butter
1 tsp. vanilla
2 1/2 c. quick oats
Directions
Combine sugar, milk, cocoa in small saucepan. Bring to boil for 1 minute.
Remove from heat, add remaining ingredients. Mix well.
Drop by tsp. onto waxed paper.
(May need to refrigerate)
You can find more articles and recipes, along with grandparenting and parenting tips at Grandparenting Articles and Tips

The following two tabs change content below.

Tammy Embrich
-- Full time work from home, writer, blogger, Avon representative, and LOVES playing with makeup. You can find her on Youtube as well. She is the proud grandmother of 2 wonderful grandchildren. You can visit Tammy at
MakeUp Products Online
. You can also subscribe and follow Tammy's Makeup and Beauty videos
Here
.