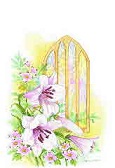 I don't know about you, but I'm keen on welcoming spring and summer for that matter! However, spring really IS just around the corner, no matter how you look at it. Most families and their loved ones look forward to getting outside and enjoying their gardens, barbeques and various outside parties. For kids, it's crucial to their health, spirit and development to get out and enjoy the outdoors instead of sitting around playing video games or watching television.
I have gathered 6 spring activities that I know you and your grandkids will indeed enjoy
Visit the animals at the zoo: My grandchild LOVES animals, and I'm looking forward to visiting the zoo with him this coming spring and summer. You can make a trip to the zoo as educational as you like. It's fun to share animal-farming tips with your grandkids and teach them how to raise chickens, horses and goats, just to name a few. Grandma personally loves the baby monkeys, however, she don't know anything about raising them! lol
You get the idea, if your grandchild likes animals, then the zoo would be a fun and delightful trip. Make a whole day out of it and pack lunches and snacks. And you know, ice cream would be a great idea to end the day with on the way home. 🙂
Garden hunt for treasures and rewards: This can be super fun and educational as well. Just like an Easter egg hunt, you hide things, however, not eggs in a garden treasure hunt. The items can be anything your grandchildren like. A package of stickers, plastic shovels and rakes, candy, and even coins. However, don't make a big issue out of hiding money. It's far more fun to hide the grand's favorite toys and things. Grandparents will have a blast with this activity as well!
Fishing day: My father loved fishing! This grandma really likes watching people fish. She was never fond of messing around with fish or the bait. lol For most people, fishing is something grandfathers and grandkids do together. However, there are many grandmothers who take a liking to fishing; just not this grandma. 😉 This also teaches your grandchildren one aspect of survival skills, and learning how people obtained their food years ago.
Cleaning out the garage: While this one may not be all that fun, it does have to be done. This is something that the whole family can participate in. Your grandchildren would enjoy this especially if you have a large sized garage and have lots of junk to go through. Maybe Grandpa has a few trinkets and tools he wishes to pass down and give up? Chances are, the garage is filled with all kinds of goodies.
Dig in the dirt and plant: All kids love playing in the dirt, well most of them, especially the boys! However, girls will love playing in the dirt to plant Grandma's flowers. 🙂 Spring is certainly the right time for improved growth. How about sharing this with your grandkids with the beautiful colors of flowers? You can plant vegetables as well. My mother-in-law always had a nice veggie garden and my son just loved helping out. This also teaches your kids where vegetables come from. The ground of course. Don't be afraid to get your nails all messed up Grandma!
Grandparenting camping trip: A fun camping trip will sure to be a hit with the grandkids! However, it may be a challenge for some grandparents to keep up with them. lol Ask your grands which they'd rather do, go camping or play video games? I'll bet you 10 to 1, you will get the camping response. Camping has always been the classic summer activity. It's also a family bonding activity with everything there is to be enjoyed. This of course, includes a huge camp fire. And yes, you HAVE to roast hot dogs and marshmallows! Camping is not camping without it.
The important thing to remember with all the outdoor activities this spring and summer has to offer is taking all the safety measures seriously. You can never be too safe or cautious. Also, have fun with your grandchildren, they won't be young forever, nor will YOU be!
About The Author:
You can also find Tammy at her freelance writing blog. She offers writing tips, articles and much more. Tammy also offers freelance writing services.

Copyright © Tammy Embrich:: Grandma's Home Blogger Place :: All Rights Reserved
The following two tabs change content below.

Tammy Embrich
-- Full time work from home, writer, blogger, Avon representative, and LOVES playing with makeup. You can find her on Youtube as well. She is the proud grandmother of 2 wonderful grandchildren. You can visit Tammy at
MakeUp Products Online
. You can also subscribe and follow Tammy's Makeup and Beauty videos
Here
.