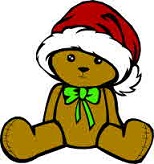 I'm making this quick. 🙂 I'm currently busy spending time with my family and enjoying a nice long vacation from work. I hope you too, will take some time and spend it with your family and friends, and especially your children, and of course your grandchildren. =)
I'm looking forward to a brand new year, very excited as to what it will bring! Welcomed changes are on the horizon.
Wishing you all a Merry Christmas and a safe, prosperous, and a very Happy New Year! May you all find peace, joy and contentment in all you do and all your home business travels!

The following two tabs change content below.

Tammy Embrich
-- Full time work from home consultant, freelance writer, blogger, Avon representative, and likes doing Paid Surveys. You can find a list of 10 (free) survey sites
Here
. She is the proud grandmother of 2 wonderful grandchildren. You can visit Tammy at
Freelance Writing Jobs and Services
and
MakeUp Products Online
. You can also subscribe and follow Tammy's Makeup and Beauty videos
Here
.