By: Darlene Demell
Tammy, remember a while back I mentioned I was working on knitted scarves that are the "in" thing around here now? Well I have a lot made already and am still working on more. I have new colors now and will be getting other colors soon.
Here are two photos of some I have done.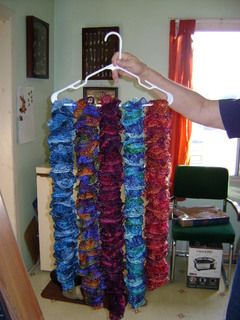 The following two tabs change content below.

Tammy Embrich
-- Full time work from home consultant, freelance writer, blogger, Avon representative, and likes doing Paid Surveys. You can find a list of 10 (free) survey sites
Here
. She is the proud grandmother of 2 wonderful grandchildren. You can visit Tammy at
Freelance Writing Jobs and Services
and
MakeUp Products Online
. You can also subscribe and follow Tammy's Makeup and Beauty videos
Here
.