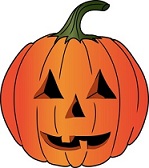 Picture Shared From http://www.pumpkinpatchesandmore.org/ 😉
I received a lovely email message a couple of weeks ago about an awesome video featuring a grandson making cookies with his grandmother. This young man -Alex Aiono; also gave me a great compliment about my blog here 🙂
I just wanted to share this sweet video with you all! (Includes Recipe as Well)
Quoted From Alex:
So for my first Halloween tradition, I made Pumpkin Chocolate Chip Cookies with my sassy Grandma! Be sure to comment below with your Halloween traditions for me to try out!
Please Note: Don't comment here on the blog, however, on the site of the actual video.  😉
Thanks for watching! And be sure and check out his other videos!
Check It Out HERE And Enjoy!
The following two tabs change content below.

Tammy Embrich
-- Full time work from home, writer, blogger, Avon representative, and LOVES playing with makeup. You can find her on Youtube as well. She is the proud grandmother of 2 wonderful grandchildren. You can visit Tammy at
MakeUp Products Online
. You can also subscribe and follow Tammy's Makeup and Beauty videos
Here
.