By: Danielle
If a teenager you know is graduating from high school this year and you want to offer a going-away gift that's both practical and sentimental, a "high school pride" quilt is the perfect choice. It's a unique way to preserve some of the most memorable moments from high school.
As the saying goes, "Well begun is half done," and that's especially true when assembling a quilt. Follow these tips to ensure the project goes smoothly and is completed in time for graduation:
· Make sure your sewing machine has been serviced and is in good working order.
· Find scissors, extra bobbins and sewing machine accessories before starting. Nothing is more frustrating than getting halfway through a project and finding out you don't have all the necessary supplies.
· Choose a neutral-colored thread that works with all your pieces so you don't have to constantly change bobbins.
· Finish one task at a time; cut all pieces first, stitch pieces into blocks, join the blocks together, etc. Jumping from task to task wastes time.
A Quilt for Any Student
It doesn't matter if your student was the most outgoing athlete or an introverted artist – it's easy to find mementos to create a high school spirit quilt if you think outside the box. Photos, newspaper clippings, drawings, copies of schoolwork, playbills, scripts, sheet music and copies of pages from the yearbook can all be transferred onto fabric to make a quilt block.
Athletic jerseys, T-shirts from clubs and special events or band uniforms can be cut into blocks. If the grad doesn't want to give up old uniforms, recreate them with solid fabric and fabric paints. Make a photocopy of a jersey for a pattern and transfer it to fabric using transfer paper. Use school colors for the background, joining pieces and backing.
Visit the high school spirit shop to see what might work for a quilt. You can attach pennants, patches and other booster items onto squares for extra embellishment. Use only washable items for applique if you want the quilt to be functional.
Don't forget the school mascot. Make a block representing the mascot and position it in the middle of the quilt. If the grad is full of school spirit, make the mascot's block the biggest and the focus of the quilt.
There's more than one way to approach a high school pride quilt, and the project can be adapted for any skill level. Beginners can use simple one-square blocks and more advanced quilters can make intricate masterpieces. Give your graduate a gift that will be cherished for a lifetime.
Danielle, who blogs on behalf of Sears and other prestigious brands, enjoys sewing and making quilts for her friends and family. Read her work at eatbreatheblog.com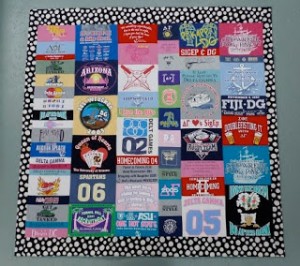 Photo taken from http://kristenbronson.wordpress.com/
The following two tabs change content below.

Tammy Embrich
-- Full time work from home, writer, blogger, Avon representative, and LOVES playing with makeup. You can find her on Youtube as well. She is the proud grandmother of 2 wonderful grandchildren. You can visit Tammy at
MakeUp Products Online
. You can also subscribe and follow Tammy's Makeup and Beauty videos
Here
.